Ring of Elysium has released their latest update containing an all new limited time mode, weapon and more. The update went live on May 17 & May 18, 2019 depending on your timezone. The patch contains new content and rewards for dedicated fans. The patch will be released on Steam, and will be required to play Ring of Elysium moving forward. Along with the new content Ring of Elysium developers have also included bug fixes, to improve the quality of play for all RoE players.
Ring of Elysium Update
Sniper Assassin Limited Time Mode (LTM)
The sniper assassin limited time mode is the first limited time mode in Ring of Elysium. The sniper assassin LTM will be ran in 4 hour blocks during various hours on May 18, 19 & 20th.
For Pacific Time:

May 18: 4:00-8:00, 12:00-16:00, 20:00-24:00
May 19: 4:00-8:00, 12:00-16:00, 20:00-24:00

For GMT/UTC:

May 18: 11:00-15:00, 19:00-23:00
May 19: 3:00-7:00, 11:00-15:00, 19:00-23:00
May 20: 3:00-7:00
Sniper assassin will be played on the Mt. Dione map. By playing the LTM players will be rewarded with double XP. The only weapons available on the map will be sniper rifles including R700, Mosin-Nagant, VKS, Desert Eagle, M200, and the TAC-50. Of those, M200 and TAC-50 will only be spawned in airdrops. Of the traversal equipment packs available players can choose from the boosted glider pack, BMX pack or grappling hook pack. The LTM contains has reduced vehicle spawns and only a few amount of snowmobiles will be spawned. By playing the sniper assassin LTM players will also be able to complete their daily and weekly challenges.
TAC-50 Sniper RIfle
A new sniper rifle has been added to Ring of Elysium as well. The TAC-50 sniper is currently only available in the new sniper assassin LTM. It's a high caliber sniper that uses the .50mm ammo, and currently does the most damage of any sniper rifle in the game.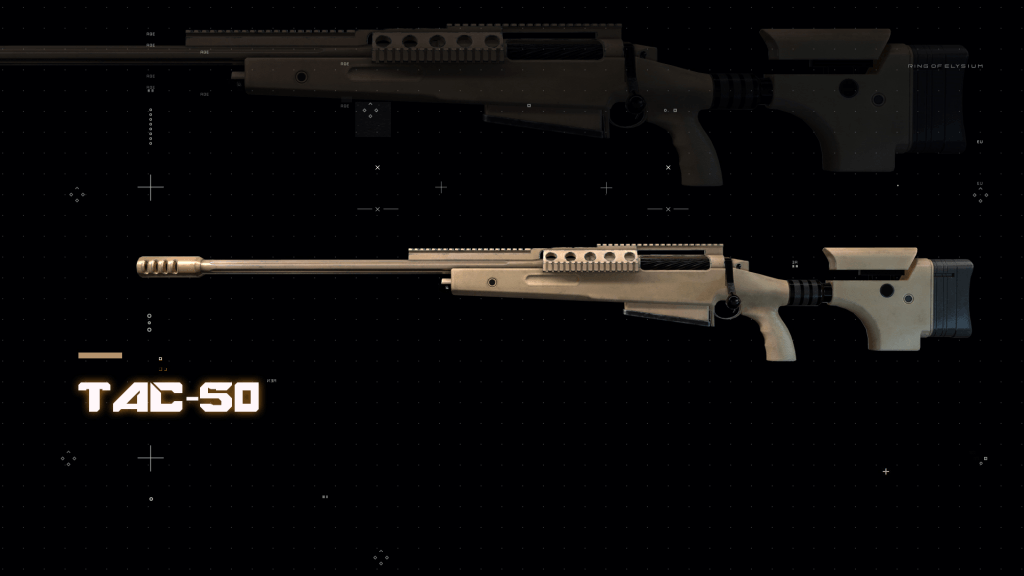 Pinnacle Challenges
To give back to everyone's long-term support, we have re-released the [Pinnacle Challenge] event in this update,the ultimate reward of this event is a FREE Season 4 Adventurer Pass that is worth 950 E-Points and an Adventurer Season 3 exclusive portrait!
Event period: May 18 – June 4, 2019 (Pacific Standard Time)
Event rules:
There is a total of 9 Pinnacle Challenges, and we will unlock 3 challenges every 5 days
Complete any 7 out of the 9 Pinnacle challenges during the event period to receive your FREE Season 4 Adventurer Pass!
Complete the 9th(last) Pinnacle Challenge to receive your Season 3 exclusive portrait!
Raging Sea Supply Box
Completely removed Experience rewards from the Raging Sea Supply Box, replacing them with E-Points and various weapon skins. If you open the box and receive a weapon skin that is already owned by you, it will automatically be converted to Tokens
Add the AK15-Raging Sea, R700-Doki Doki, and FAMAS-Sailor Saki to the Token Shop
Store
Elliot-Neon Green

Elliot Neon Green Skin

Introducing the M4A1-Raging Sea, available exclusively through the Weapon Skin Token Shop

Raging Sea M4A1 Skin

Added three levels of Adventurer Tier instant boosts (+1, +5 and +10 tiers)
Training Mode
Improved the bots' AI, now, bots will actively go towards the player and be more intelligent when avoiding volcanic ash danger zones
Players will now receive a small amount of Exp. in Training mode games
DirectX12 Pre-load
Before the official DX12 Beta client releases, we will be gradually putting out DX12's related content with our patches. The first batch of DX12 Client related tech modules will be deployed with this patch
Please note that this does not mean the DX12 Beta Client has been released, we will be posting a dedicated Q&A announcement for the DX12 Client tomorrow to answer all your questions related to DX12, stay tuned
Gameplay
When players are underwater, with the DPV and Grappling hook set to the same keybind, Grappling hook will be prioritized when the keybind is pressed
3D Spawn-selection
Adjusted the spawn-point icons' display effects, making them more visible
Daily Check-in
Daily check-in continues from May 18 to May 24 (Pacific Time), check-in for 7 days and receive a cute Saki-themed BMX appearance!
Bug fixes
Fixed an issue where the hitboxes of the boat is not accurate enough
Fixed an issue where player's HP update was delayed with spectating
Fixed an issue where players couldn't cancel reviving teammates under high latency
Fixed an issue where certain objects on the pirate ship obstructed player movement
Fixed an issue where the loot on the pirate ship was incorrect after disconnecting and reconnecting to the game
Fixed an issue where the players were dragged in some cases when using the DPV underwater
Fixed an issue where the character icon was shown incorrectly under the appearance interface in lobby
Fixed an issue where the M200's bolting sound effect was incorrect
Fixed an issue where the network latency was not updated for a period of time in some rare cases