If you're having trouble completing your season 9 week 6 challenges you've come to the right place. Squatingdog, a Fortnite content creator, has released his official Fortnite season 9 week 6 cheat sheet. The cheat sheet includes helpful tips that will guide you through the week 6 challenges. Along with tips for challenges, the cheat sheet includes the locations of the week 6 Fortbytes, Fortbye 96, 70, 78, 51, 65, 19 and 89.
Like tradition in Fortnite the challenges are reset on Thursday's at midnight. Each week a set of 3 free challenges and 4 premium battle pass challenges are released. Upon completing any of the challenges you will be rewarded with battle pass stars. The battle pass stars can be used to level up your free or premium battle pass to unlock in-game rewards.
Fortnite Week 6 Cheat Sheet – Season 9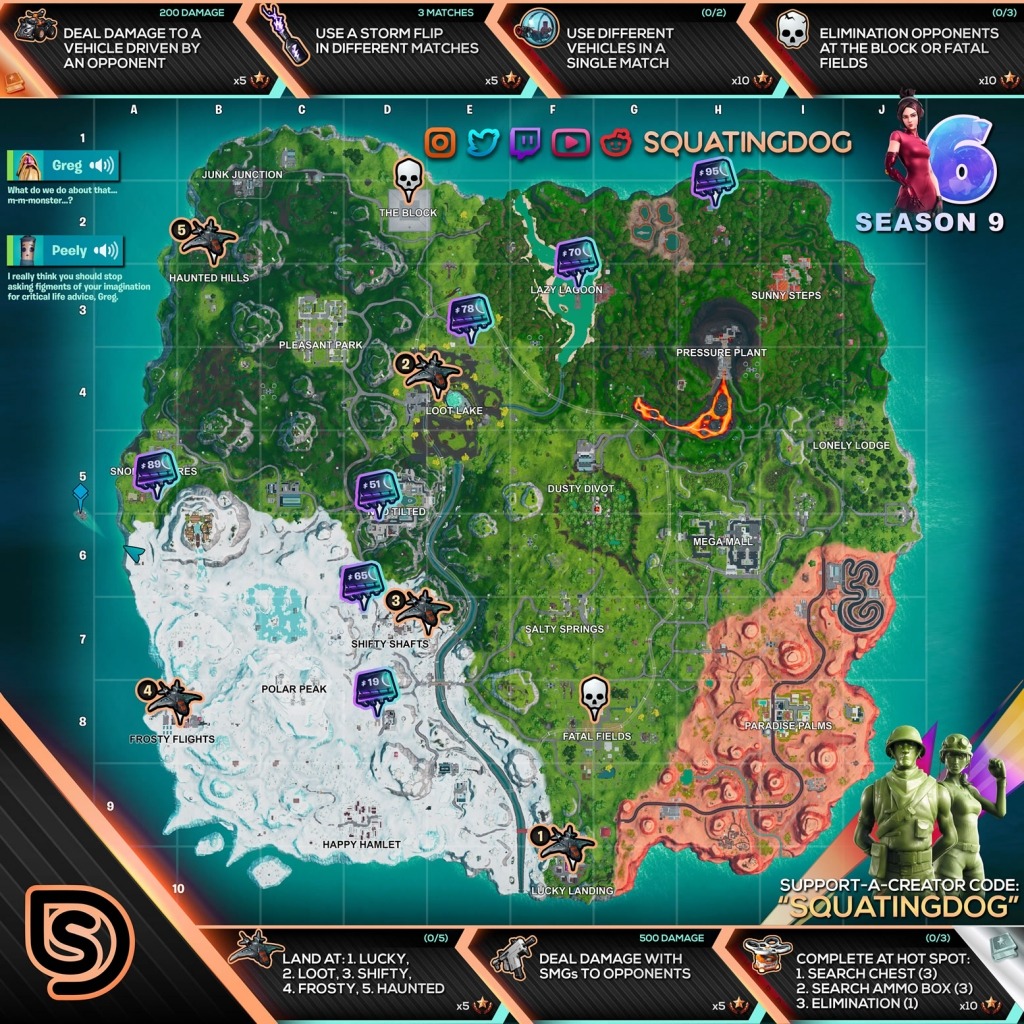 On the cheat sheet above the challenges are broken up. The challenges on the top are available as part of the premium battle pass challenges, and the challenges on the bottom are part of the premium battle pass challenges. You can earn a total of 20 battle pass stars by completing the free challenges, a total of 30 battle pass stars by completing the premium challenges and all together a total of 50 battle pass stars for completing all of the challenges.
Fortnite Week 6 Challenges – Season 9
Free Challenges
Land at…

Land at Lucky Landing
Land at Loot Lake
Land at Shifty Shafts
Land at Frosty Flgiths
Land at Haunted Hills

Deal damage with SMGs to opponents (300 damage)
Hot Spot staged challanges

Search chests at a Hot Spot
Search ammo boxes at a Hot Spot
Get an elimination at a Hot Spot
Premium Challanges
Deal damage to a vehicle driven by an opponent (300 damage)
Use a storm flip in different matches (3 matches)
Use different vehicles in a single match (2 matches)
Eliminate opponents in The Block of Fatal Fields (3 eliminations)