How to Complete Season 8 Week 2 Challenges, Fortnite Season 8 Week 2 Cheat Sheet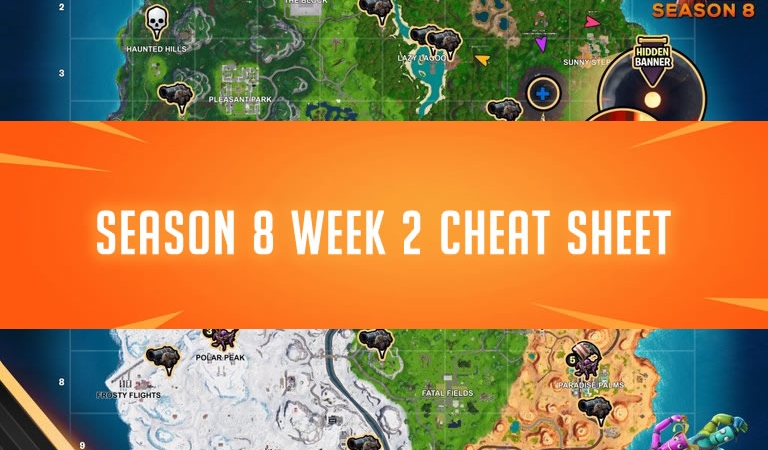 Brace yourselves, week 2 of Fortnite season 8 has begun. For help completing all of your season 8 week 2 challenges look no further than our cheat sheet. This weeks challenges incorporate new parts of the game like the cannon, and the block. Season 8's week 2 is will be the official "live week" from March 7, 2019 to March 14, 2019. Keep in mind, that even after a new week has started you can still go back and complete last weeks challenges as long as it's still the same season. If you need some help with week 1's challenges, take a look at our season 8 week 1 cheat sheet.
All of the season 8 week 2 challenges will be listed on the map, and in more detail below the map. To complete them simply head to the location marked on the map, do the task and make sure to finish the game. Failure to finish the game (or be eliminated) will result in the challenge not counting and you will have to complete it again. Once you have complete the challenge you will be rewarded with battle pass stars. The stars are used to level up your battle pass and unlock unique in game content such as skins, emotes, gear and more.
Fortnite Season 8 Week 2 Cheat Sheet
Season 8 Week 2 Challenges
Free Challenges
Land at different named locations (5 locations) (Reward: 5 battle pass stars)

Land at The Block
Land at Dusty Divot
Land at Polar Peaks
Land at Snobby Shores
Land at Paradise Palms

Deal damage to descending supply drops (200 damage) (Reward: 5 battle pass stars)
Get eliminations at either Salty Spring or Haunted Hills (3 eliminations) (Reward: 10 battle pass stars) (HARD)
Paid Challenges
Gain health from different items (3 items) (Reward: 5 battle pass stars)

Gain 25 health from apples
Gain 50 health from campfires
Gain 75 health from med kits

Visit the furthest North, South, East & West locations on the map (4 locations) (Reward: 5 battle pass stars)
Deal damage to an opponent with a pirate cannon (100 damage) (Reward: 10 battle pass stars) (HARD)
Search chests in different named locations in a single match (3 chests) (Reward: 10 battle pass stars) (HARD)