Season 8 Week 1 Cheat Sheet, Fortnite Season 8 Week 1 Challenge Guide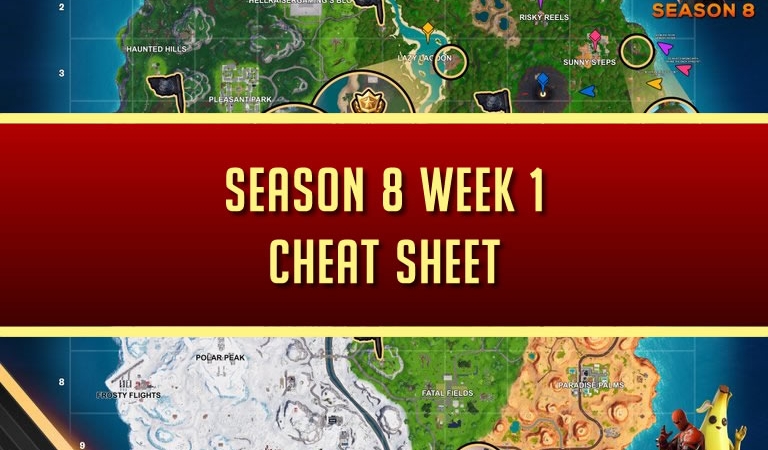 An all new season has started in Fortnite, season 8! Season 8 began on February 28, 2019 and is expected to last at least 10 weeks. Like previous seasons each week of the season comes with it's own set of challenges. There are usually 7 challenges, 4 for players who own the battle pass, and 3 for players who do not own the battle pass. By completing the challenges each week you unlock battle pass stars that can be used to level up your battle pass and unlock unique rewards. The challenges are easier to complete when you use the season 8 week 1 cheat sheet. 
By completing the season 8 week 1 challenges you will unlock a total of 50 battle pass stars, or 5 tiers towards your battle pass. Another thing to note on this week's cheat sheet map is the differences around the map. Places like Wailing Woods, Risky Reels, and Lazy Lagoon have all changed from season 7.
Fortnite Season 8 Week 1 Cheat Sheet
Season 8 Week 1 Free Challenges
Visit 7 Different Pirate Camps (Reward: 5 battle pass stars) – Pirate Camp Map
Search chests at Retail Row or Junk Junction (Reward: 5 battle pass stars)
Deal damage with a shotgun + explosive, pistol + assault rifle, sniper rifle + SMG (Reward: 10 battle pass stars)
Season 8 Week 1 Battle Pass Challenges
Visit a giant face in the desert, jungle and the snow (Reward: 5 battle pass stars)
Use 5 volcano vents in different matches (Reward: 5 battle pass stars)
Get an elimination with a shotgun, explosive and assault rifle in the same match (Reward: 10 battle pass stars)
Deal damage to any vehicle driven by an opponent (Reward: 10 battle pass stars)