The Fortnite season 8 week 9 cheat sheet has been released. This weeks cheat sheet map will help you complete all of the Fortnite season 8 week 9 challenges.
The week 9 cheat sheet contains helpful hints to help you complete all of the week 9 challenges. The cheat sheet is broken down into two sections; a free challenges section and section for players who own this season battle pass. By utilizing the season 8 week 9 cheat sheet and completing the challenges players will be rewarded with battle pass stars. These battle pass stars are used to level up your version of the battle pass. By leveling up your battle pass you will unlock special season 8 rewards such as sprays, emotes, skins and more.
Fortnite Season 8 Week 9 Cheat Sheet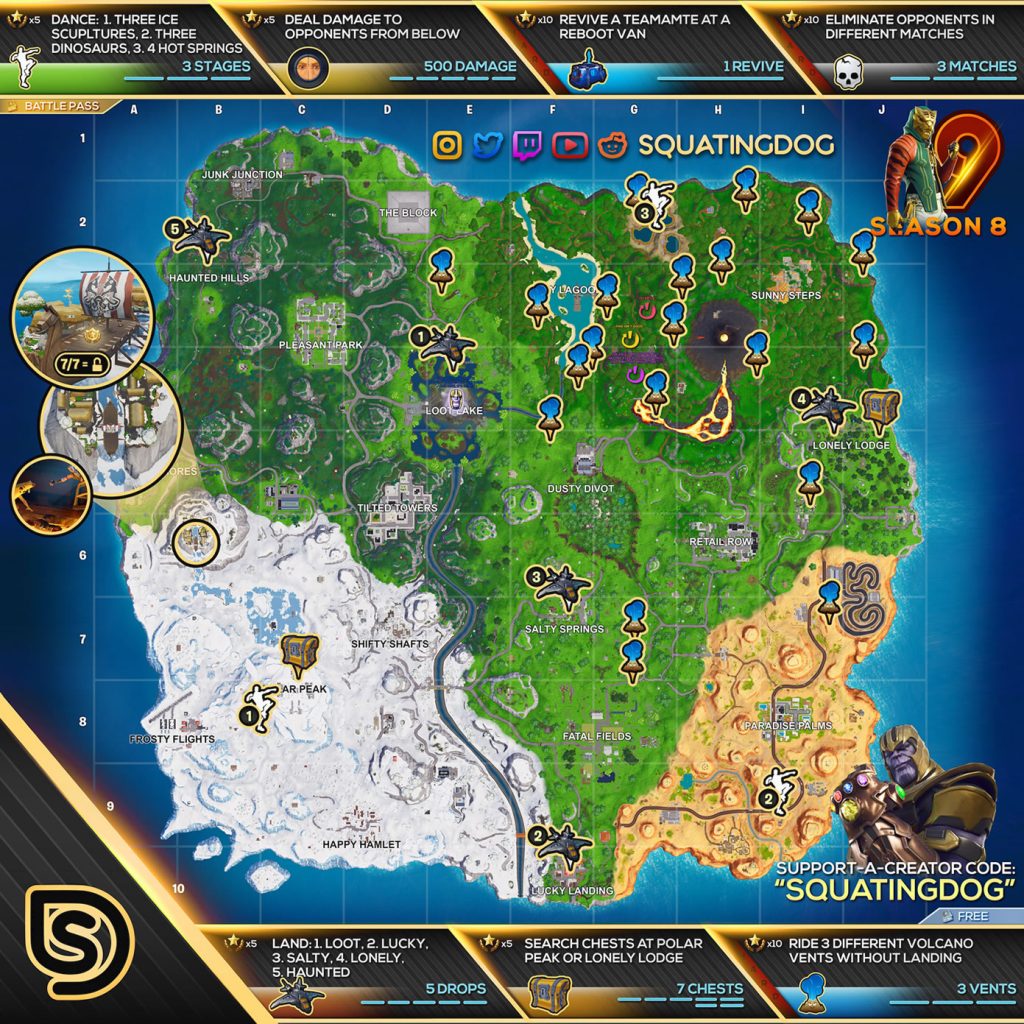 The cheat sheet was provided by Reddit user squatingdog.
Fortnite Season 8 Week 9 Challenges
Free Challenges
Search chests at Polar Peak or Lonely Lodge
Staged Challenge: Land at

Land at Loot Lake
Land at Lucky Landing
Land at Salty Springs
Land at Lonely Lodge
Land at Haunted Hills

Ride 3 different Volcano Vents without landing
Battle Pass Owner Challenges
Deal damage to opponents from below
Eliminate an opponent in different matches
Staged Challenge: Dance in certain locations

Dance between three ice sculptures
Dance between three dinosaurs
Dance between four hot springs

Revive a teammate from a Reboot Van
Not only does the cheat sheet include tips to completing your challenges it also includes the week 9 hidden banner location. The week 9 hidden banner is located . By collecting the hidden banner you will have access to the week 9 loading screen shown below.
Keep in mind that we are nearing the end of Fortnite season 8. If you still need to complete previous weeks challenges take a look at all of the Fortnite season 8 cheat sheets:
All Fortnite Season 8 Cheat Sheets
To complete the challenges Fortnite requires that you finish the game. You can finish the game by being eliminated or by finishing with a victory royale. Consequently, if you choose to quit the game any progress towards challenges earned during the match will be cancelled.