An all new Fortnite season 8 week 8 cheat sheet has released. The cheat sheet is a helpful map overview that will help in completing your Fortnite week 8 challenges.
This weeks cheat sheet contains all 7 challenges broken down into two sections. There are the free challenges and the challenges for players who own the battle pass. By completing the challenges on the cheat sheet players will be rewarded with battle pass stars. These battle pass stars will be used to rank up your battle pass. By ranking up your battle pass you will unlock special battle pass rewards such as skins, sprays, emotes and more.
Also, on this weeks season 8 week 8 cheat sheet there is a marker for the hidden banner. The week 8 hidden banner is located on a small snow island located in North of Polar Peak. The hidden banner is also marked on the cheat sheet below.
Fortnite Week 8 Cheat Sheet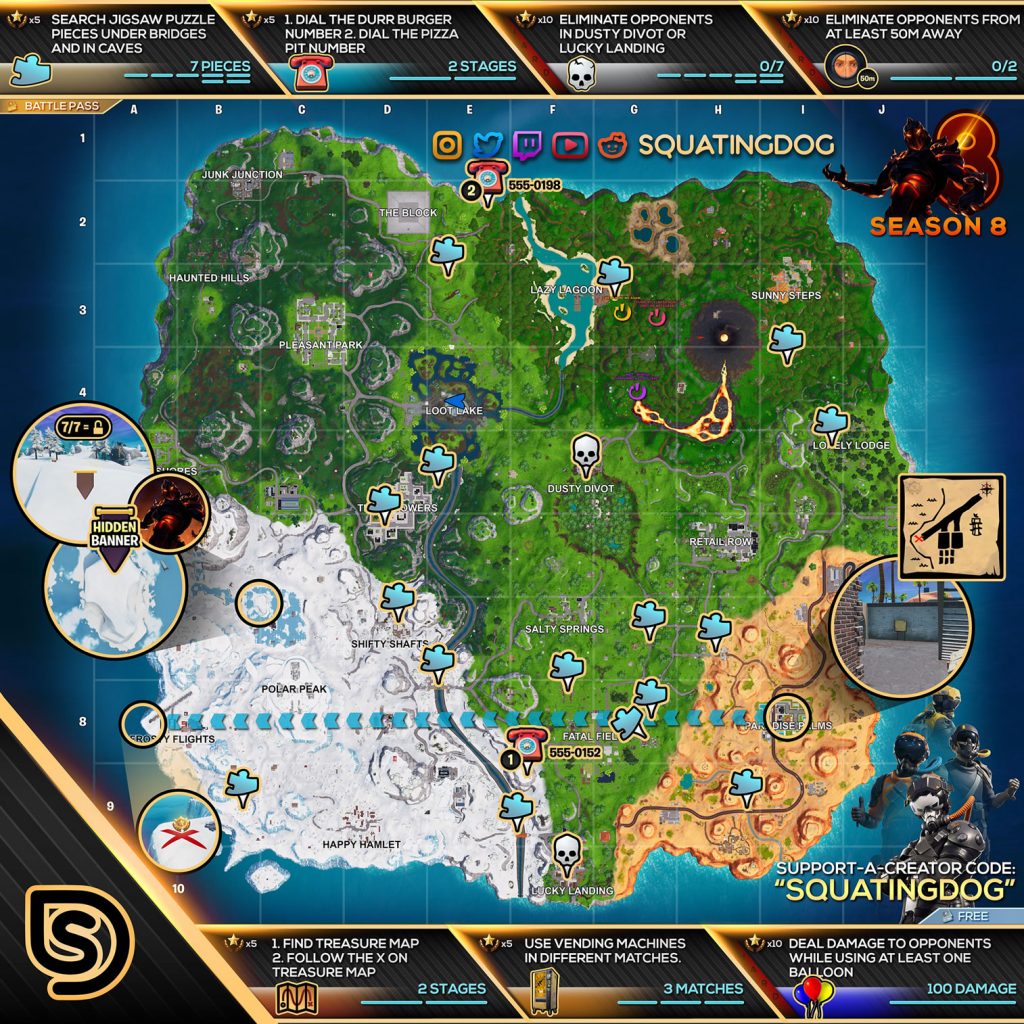 Fortnite Week 8 Challenges
Free Challenges
Search the treasure map signs

Search the treasure map sign in Paradise Palms
Search the X on the treasure map signpost in Paradise Palms

Use vending machines in different matches (3 matches)
Deal damage to opponents while using at least one balloon (100 damage)
Battle Pass Owner Challenges
Search jigsaw puzzle pieces under bridges and caves (7 pieces)
Use the big telephones

Dial the Durr Burger number on the big telephone West of Fatal Fields
Dial the Pizza Pit number on the big telephone East of The Block

Eliminate opponents in Dusty Divot or Lucky Landing (7 eliminations)
Eliminate opponents from at least 50m away (2 eliminations)
Keep in mind you must finish the match to earn progression towards completing your challenges. Leaving the match before you are eliminated or you win the game will result in a reset of any progress earned throughout the match.