Fortnite season 8 week 4 has begun, which means we are almost to the midway point of season 8. Along with the new week starting within the battle pass comes an all new week 4 season 8 cheat sheet. The season 8 week 4 cheat sheet will help you complete all of this weeks battle pass challenges to help you achieve your ultimate goal of completing this season battle pass.
By completing week 4 challenges, you will unlock between 5 and 10 battle pass stars. The battle pass stars can be used to rank up your battle pass: 5 battle pass stars is half a level, and 10 battle pass stars is a full level.
This weeks challenges are like those of previous weeks over previous seasons. However, the challenges do have minor changes to make them look unique. This week Fortnite is encouraging the use of the "baller" vehicle as players need to use it in 5 different matches. There is also a somewhat unique challenge – instead of surviving a certain number of players – this week they would like you to outlast opponents and they've broken it down into placement stages.
Fortnite Week 4 Season 8 Cheat Sheet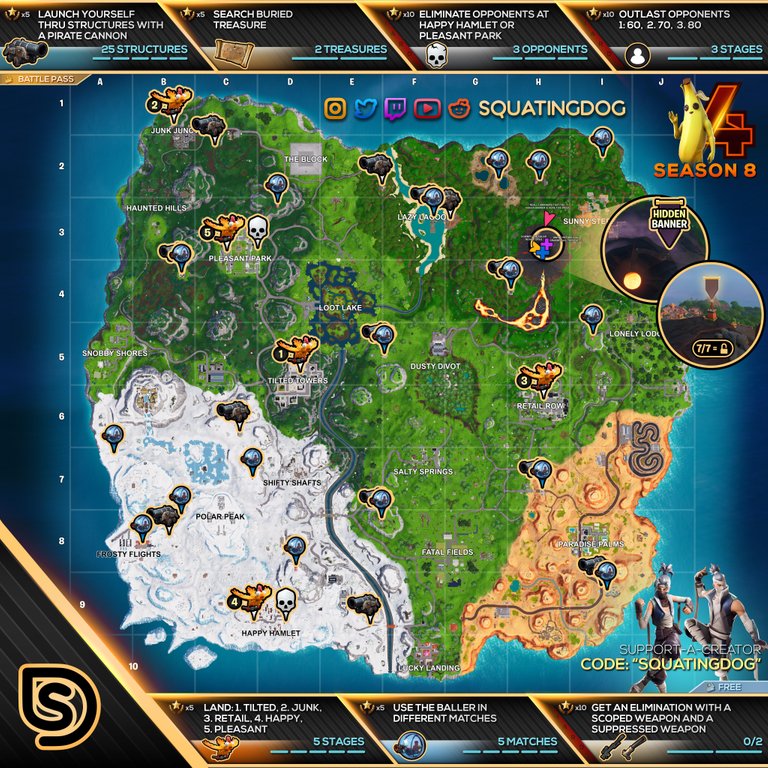 Free Season 8 Week 4 Battle Pass Challenges
Land at 5 different named locations

Tilted Towers
Junk Junction
Retail Row
Happy Hamlet
Pleasant Park

Use the battle in 5 different matches
Get an elimination with a scoped weapon and a suppressed weapon
Paid Season 8 Week 4 Battle Pass Challenges
Launch yourself thru 25 structures with a pirate cannon
Search for 2 buried treasures
Eliminate 3 opponents at Happy Hamlet or Pleasant Park
Outlast opponents (3 stages)
Another to note is this weeks hidden banner. The season 8 week 4 hidden banner is located Southwest of Sunny Steps.
Keep in mind that for the challenge to count, you need to finish the match. Failure to finish the match will result in you losing progress towards the challenge.