Once again the season 6 week 10 challenges have been data-mined. Just like other weeks, there are 3 challenges that all players will be able to complete. There will also be 4 challenges that players who purchased the season 6 battle pass will be able to complete. These leaked challenges aren't the official challenges, as Epic Games can change them at anytime, but over the past few weeks all of the leaked challenges have turned out to be accurate.
The leaked challenges are set to go live on Thursday November 29, 2018. If you complete all 4 of the 7 challenges you will be rewarded with 10,000 XP.
Edit: These challenges are now live. Take a look at the season 6 week 10 cheat sheet to complete your challenges.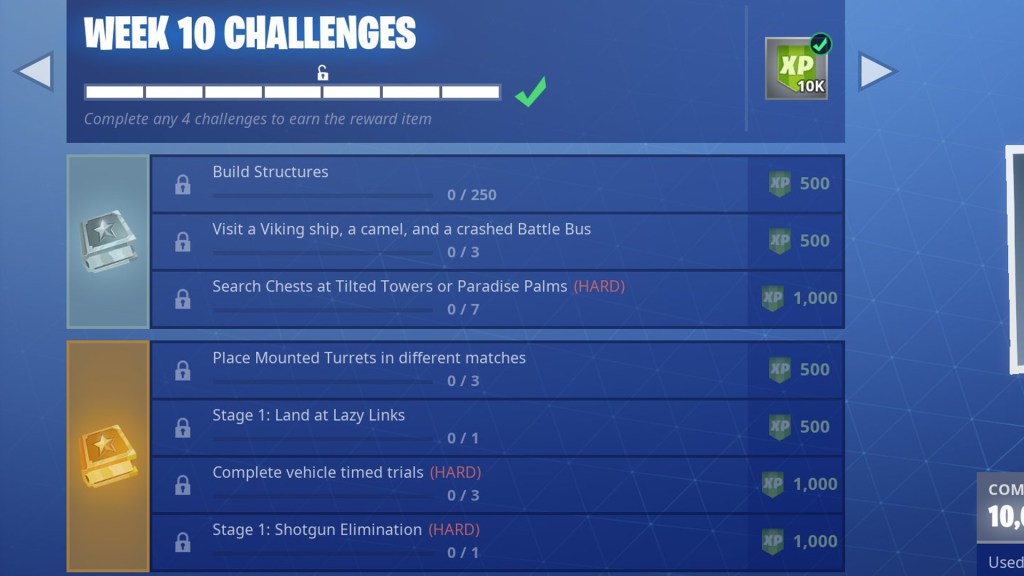 Free Battle Pass Challenges
Build Structures (250)
Visit a Viking ship, a camel and a crashed Battle Bus (3)
Search Chests at Tilted Towers or Paradise Palms (7)

(HARD)
Paid Battle Pass Challenges
Place Mounted Turrets in different matches (3)
Stage 1: Land at Lazy Links (1)
Complete vehicle timed trials (3) 

(HARD)

Stage 1: Shotgun Elimination (1) 

(HARD)
For the paid battle pass challenges above that have "Stage 1" in them there will be multiple stages. We will post the other stages once the challenges officially go live.
If you have not purchased the battle pass for season 6 and would still like to complete the challenges you will need to purchase a battle pass for 950 V-Bucks. We don't recommend it as it is the last week of season 6. However, if you do purchase it your rewards will be back tracked to whatever level you are. For example, if you are level 40 on your free battle pass and then purchase the paid battle pass you will be reward with all of the free rewards up to level 40.