The first season of the Call of Duty League is set to begin an January 24, 2019 in Minnesota. The first season under Activision's new franchising model will host more than 20 events spanned across more than 6 months and a dozen locations. The new franchising model ties teams to their location, which is where the events will be held and is why season 1 of the Call of Duty League is being named the "Call of Duty League 2020 World Tour". At each event, multiple teams will compete with some events also hosting path to pro tournaments as well. Tickets will go on sale for each event on November 12, 2019 on Activision's website.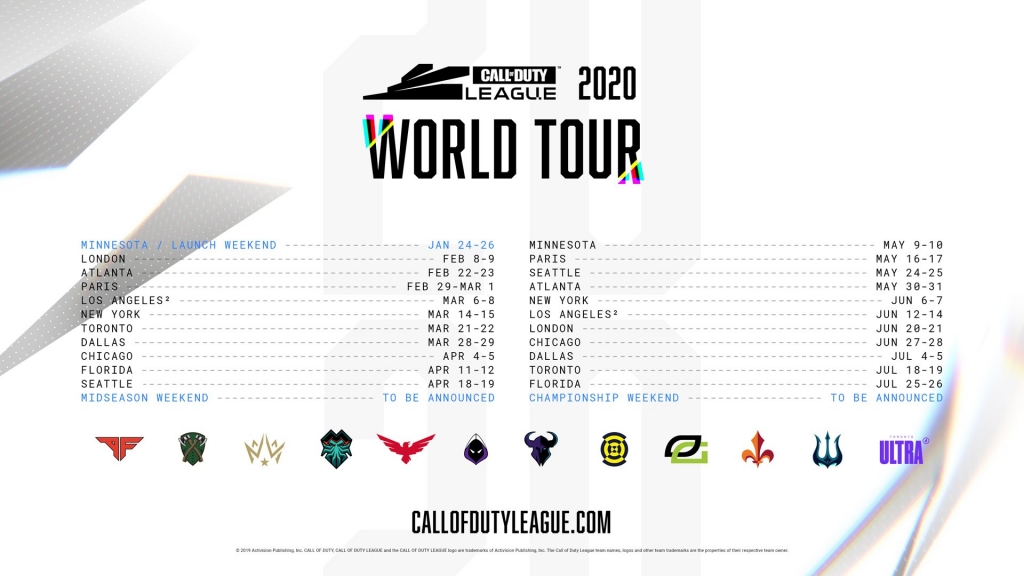 Keep in mind that not every professional team will attend every event. Below is listed each event, the dates and which professional teams will be in attendance. To view which teams will be at each event make sure to check out the Call of Duty World Tour team schedule here.
The first tournament will be hosted in Minnesota by the Minnesota RØKKR. The event will take place January 24, 2019 – January 26, 2019 and will feature every team that is competing in the Call of Duty League. The launch weekend event will also feature the first Call of Duty Challengers open bracket tournament. To participate in the event you will need to purchase a team pass. Team passes will go sale sometime in December.
On the Call of Duty World Tour schedule there are also events that are pending more details. Certain events like "Midseason Weekend" and "Championship Weekend" are yet to be announced. However, you can speculate that the midseason weekend event is either midseason playoffs or an open time when rosters can be adjusted. The championship weekend is believed to be the new version of Call of Duty Champs, the biggest tournament of the year.