The Fortnite season 9, week 3 cheat sheet has been released. The week 3 cheat sheet will help you complete your weekly Fortnite challenges. The week 3 challenges were unlocked on May 23, 2019 and will be available throughout the remainder of season 9. Just like every week in Fortnite, 7 new challenges are released into two categories. One challenge category being the free battle pass category and the other being the paid version of the battle pass.
By completing the challenges you will unlock a certain amount of battle pass stars that will level up your battle pass. Leveling up the battle pass will reward you will unique skins, wraps, XP and more in-game content for you to enjoy.
This weeks challenges are pretty straight forward and don't require much assistance. However, if you are struggling with one of them, or need help finding the hidden battle pass star take a look at the cheat sheet below to complete your week 3 challenges.
Fortnite Season 3 Week 9 Cheat Sheet
This weeks cheat sheet was released by popular Fortnite creator thesquatingdog.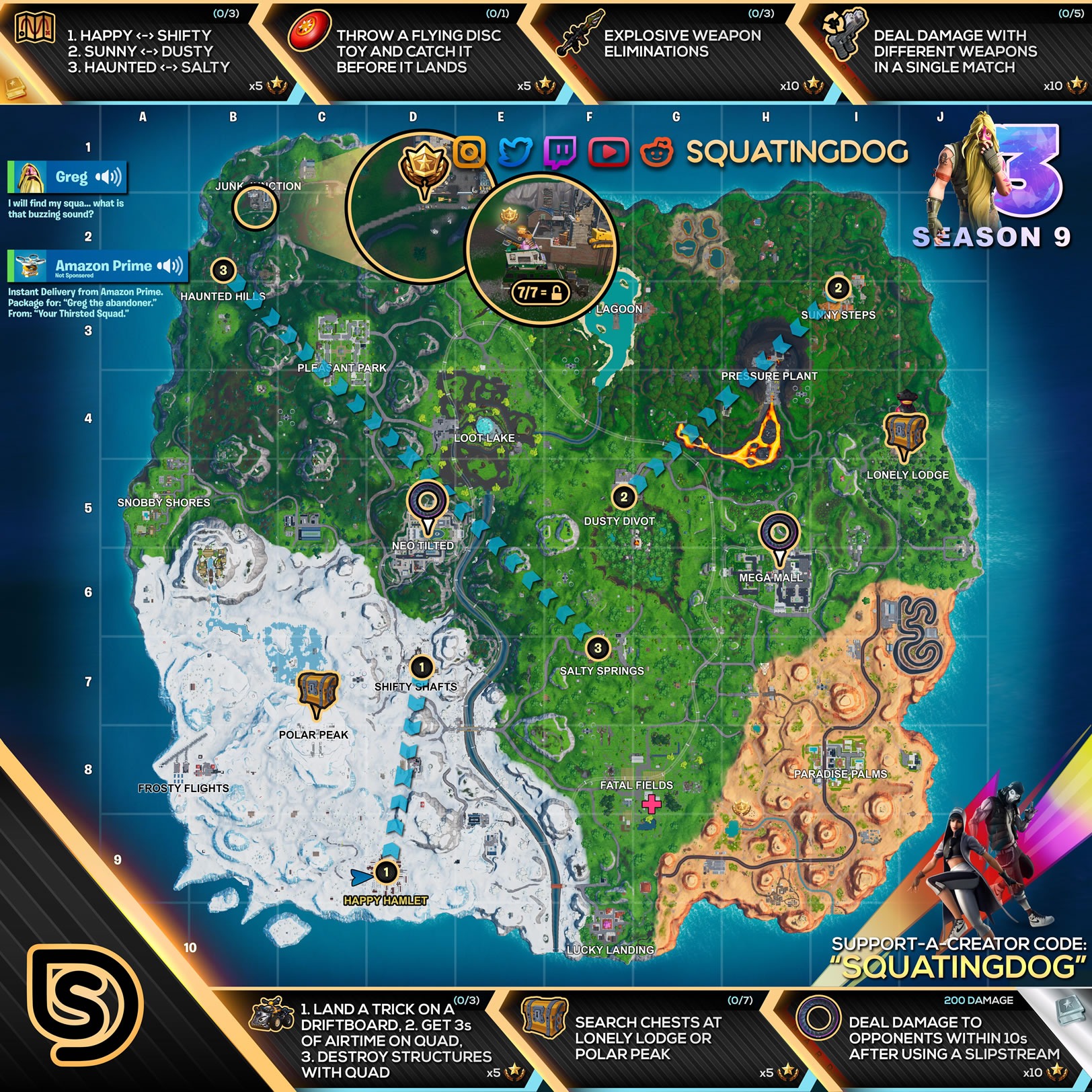 Keep in mind that so far all season 9 week 1 through week 3 challenges are still available. If you haven't completed any of your previous season 9 challenges take a look at the cheat sheets below.
Fortnite Season 9 Week 3 Challenges
Free Battle Pass Challenges
Land a trick on different vehicles

Land a trick on a driftboard
Get 3 seconds of airtime on a quad
Destroy structures with a quad

Search chests at Lonely Lodge or Polar Peaks
Deal damage to opponents within 10 seconds of using a slip stream
Paid Battle Pass Challenges
Visit two named locations in a single match

Visit Happy Hamlet and Shifty Shafts in the same match
Visit Sunny Steps and Dusty Divot in the same match
Visit Haunted Hills and Salty Springs in the same match

Throw a flying disc toy and catch it before it lands
Get 3 explosive weapon eliminations
Deal damage with 5 different weapons in a single match