Fortnite Season 7 week 9 has begun. With the new week comes a set of all new challenges that players can complete to unlock tiers towards their battle pass. To help you complete the challenges we have shared an all new season 7 week 9 cheat sheet. The cheat sheet maps out all of the golden balloon locations, timed trial locations for your X-4 Stormwing challenge, and much more.
The cheat sheet will help you complete the week 9 challenges. The cheat sheet breaks the challenges into two groups; free battle pass challenges and paid battle pass challenges. Players who are playing on the free battle pass for season 7 will be able to complete 3 challenges worth 20 battle pass stars. Those that have purchased a season 7 battle pass will be able to complete not only the 3 free challenges, but 4 paid challenges for a total of 50 stars.
If you have missed previous season 7 cheat sheets take a look at our page containing every season 7 cheat sheet.
Fortnite Season 7 Week 9 Cheat Sheet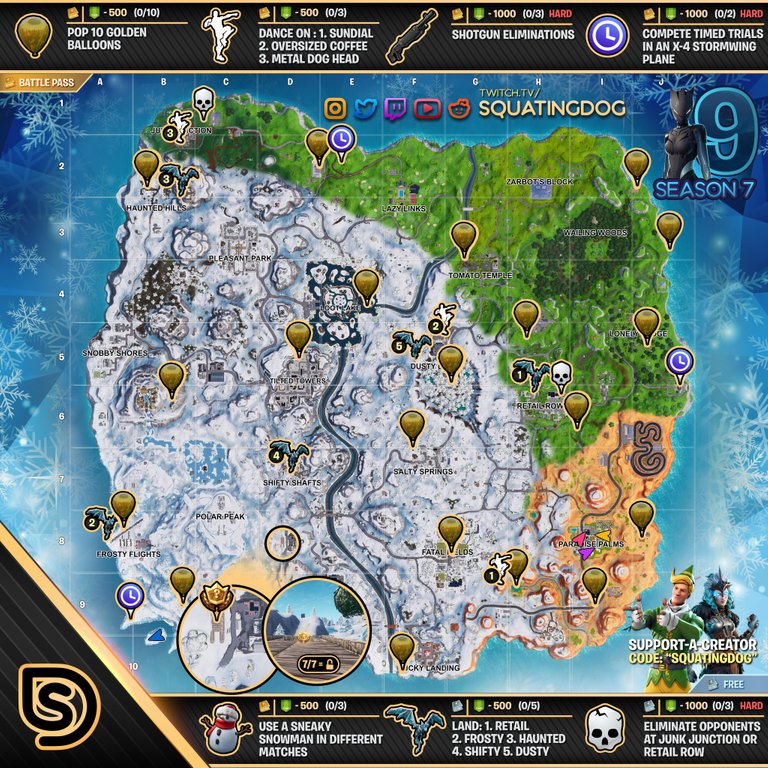 Fortnite Season 7 Week 9 Challenges
Free Battle Pass Challenges
Use a sneaky snowman in different matches (Reward: 5 battle pass tiers) (3 different matches)
Land at named locations (Reward: 5 battle pass tiers) (5 locations)

Land Retail Row
Land Frosty Flights
Land Haunted Hills
Land Shifty Shafts
Land Dusty Divot

Eliminate opponents at Junk Junction (Reward: 10 battle pass tiers) (3 eliminations)

(HARD)
Paid Battle Pass Challenges
Pop 10 golden balloons (Reward: 5 battle pass tiers) (10 balloons) – Map of all golden balloon locations
Dance on certain points of interest (Reward: 5 battle pass tiers) (3 locations)

Dance on a sundial
Dance on an over-sized coffee
Dance on a metal dog head

Shotgun eliminations (Reward: 10 battle pass tiers) (3 eliminations)

(HARD)

Complete timed trials in an X-4 Stormwing (Reward: 10 battle pass tiers) (2 timed trials)

(HARD)