Apex Legends was released roughly a month ago and with it's millions of players there are sure to be some high kill games. While many teams have won multiple games, none have done it with as many kills as these three players.
On March 13, 2019 Lazxr, Lowley and Genxq dropped into a game of Apex Legends with a total of 58 players on the server. After racking up an insane amount the players won the game, and set a new PC record at 42 eliminations. With the amazing performance the team managed to wipe out over 70% of enemy players in the lobby while combining for 6778 damage. There were ups and downs throughout the game, with a total of 3 revives the game could have gone south quick.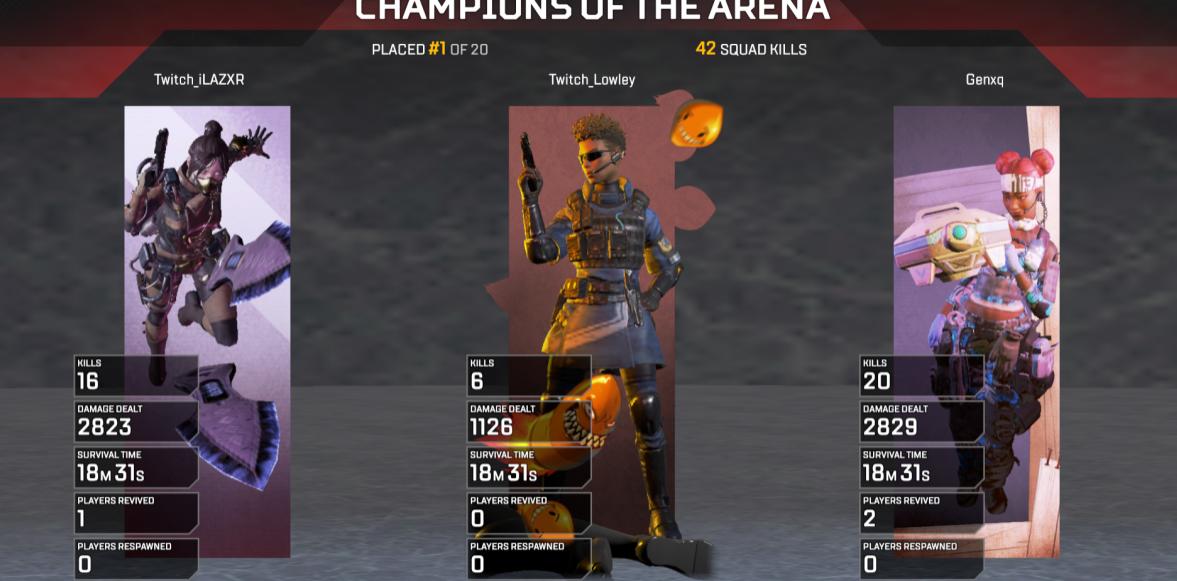 The match took a total of 18 minutes and 31 seconds. As you can see Genxq led the way with 20 kills and 2829 damage, followed by Lazxr with 16 kills and 2823 damage, and lastly Lowley with 6 kills and 1126 damage. The trio worked as a team and now hold the record for most kills on PC. One thing to keep in mind is that this record comes after the most recent nerf to the Wingman and Peacekeeper, making it even more special.
You can watch a video of the high kill game courtesy of Lazxr's YouTube channel below.
The three players were ecstatic after the match after realizing what they had accomplished. The record comes at a good time for the players after their recent tryouts for the Team Secret – Secret Legends team.
The previous record stood for quite a while, so it will be interesting to see how long their record can be upheld. You can view a complete list of records, including PC, Xbox One, and PlayStation 4 here at our Apex Legends Kills Records list.
To submit your record please send it to us on Twitter: @GameGuideHQ_