Fortnite Season 7 week 2 is officially live. Week 2 began on December 13, 2018 and runs until December 20, 2018. The new week features intense battle pass challenges that players can attempt and complete to earn 50 battle pass stars. Each challenges provides a unique difficulty that spices up the game from time to time and gives players something to aim for.
Like in previous weeks, there are 2 different sets of battle pass challenges. There are 4 paid battle pass challenges, and 3 free battle pass challenges. Those who are playing on the free battle pass for season 7 will be able to complete 3 challenges worth 20 battle pass stars. Those that have purchased a season 7 battle pass will be able to complete not only the 3 free challenges, but 4 paid challenges for a total of 50 stars.
If you have missed previous season 7 cheat sheets take a look at our page containing every season 7 cheat sheet.
Fortnite Season 7 Week 2 Cheat Sheet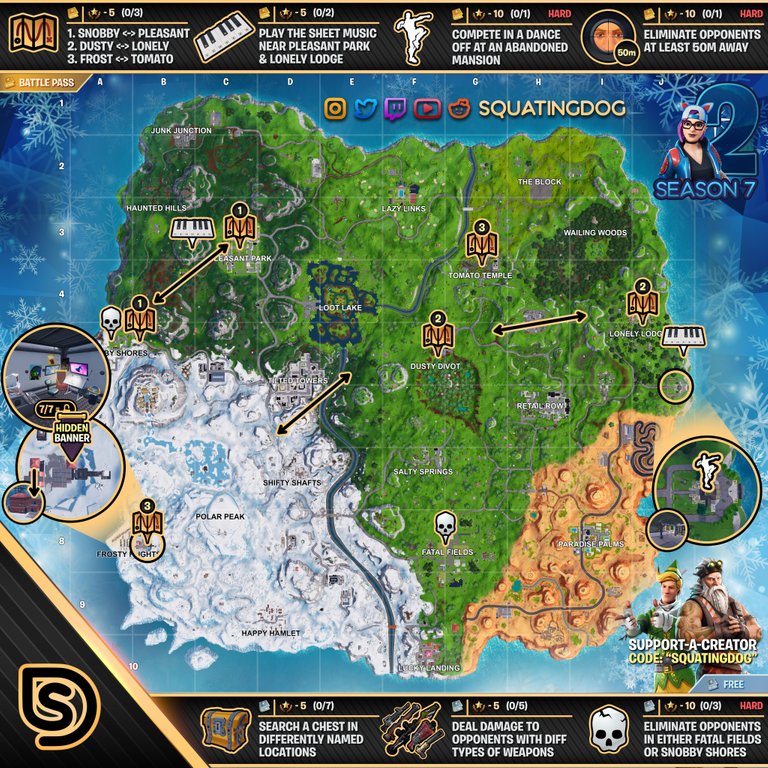 Fortnite Season 7 Week 2 Challenges
Free Battle Pass Challenges
Search a Chest in different Names Locations (7 locations) (Reward: 5 battle pass stars)
Damage opponents with different types of weapons (5 different weapons) (Reward: 5 battle pass stars)
Eliminate opponents in Snobby Shores or Fatal Fields (3 eliminations) (Reward: 10 battle pass stars) 

(HARD)
Paid Battle Pass Challenges
Visit Multiple Named Locations in Single Match (3 named locations [2] locations each) (Reward: 5 battle pass stars)

Stage 1: Snobby to Pleasant
Stage 2: Dusty to Lonely
Stage 3: Frost to Tomato

Play the Sheet Music on the pianos near Pleasant Park and Lonely Lodge (2 sheet music & piano plays) (Reward: 5 battle pass stars)
Compete in a Dance Off at an abandoned mansion (1 dance off) (Reward: 10 battle pass stars) 

(HARD)

Eliminate an opponent from at least 50m away (1 elmination) (Reward: 10 battle pass stars) 

(HARD)
In-Game Challenges