Fortnite Season 6 week 3 has begun, and with that comes an all new season 6 week 3 cheat sheet. The purpose of the cheat sheet is to help you complete your weekly challenges easier. When you complete the week 3 challenges you will be rewarded with battle pass stars. These battle pass stars will help you rank your battle pass up to unlock in-game content like skins, emotes, and more!
Fortnite Season 6 Week 3 Cheat Sheet: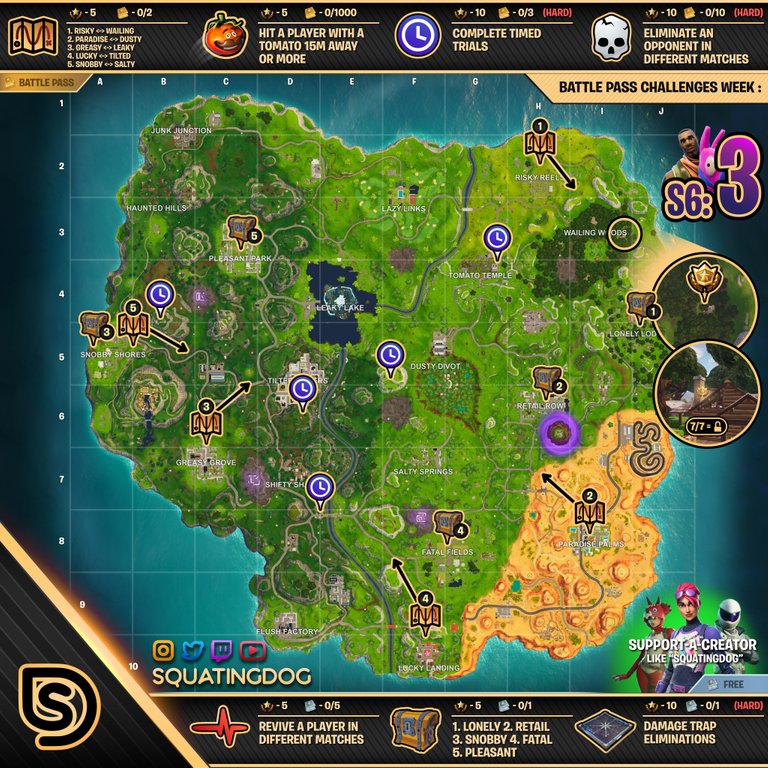 Free Battle Pass Season 6 Week 3 Challenges:
Revive 5 players in different matches. (Revives: 5 | Reward: 5 Battle Pass Stars)
Eliminate 1 Opponent with a damage trap (Eliminations: 1 | Reward: 10 Battle Pass Stars)

(HARD)

Search chests in certain named location (Chests: 5 | Reward: 5 Battle Pass Stars)

Stage 1 search a chest in Lonely Lodge
Stage 2 search a chest in Retail Row
Stage 3 search a chest in Snobby Shores
Stage 4 search a chest in Fatal Fields
Stage 5 search a chest in Pleasant Park

These will have to be completed in order to complete the challenge.
Paid Battle Pass Season 6 Week 3 Challenges:
Visit pairs of named locations in a single match (Locations: 2 | Reward: 5 Battle Pass Stars)

Risky Reels to Wailing Woods
Paradise Palms to Dusty Divot
Greasy Grove to Leaky Landing
Lucky Landing to Titled Towers
Snobby Shores to Salty Springs

Hit a player with a tomato from at least 15 meters away or more (Tomatoes: 1 | Reward: 5 Battle Pass Stars)
Complete Timed Trials (Timed Trials: 3 | Reward: 10 Battle Pass Stars)

(HARD)

– Season 6 Timed Trial Locations
Eliminate an opponent in different matches (Eliminations: 10 | Reward: 10 battle Pass Stars)

(HARD)