Only 4 teams remain the second CMG ProDown $2,500 tournament. After battling it out on Sunday December 2, 2018 OpTic Gaming find themselves in the grand finals yet again. On the lower side of the bracket is 100 Thieves, Team Reciprocity and Red Reserve.
The tournament is set to resume December 3, 2018 with the losers bracket matches. The first match will be Red Reserve vs Team Reciprocity. The winner of that match will move on to the loser's bracket finals and face 100 Thieves. The winner of that moves on to the grand finals to compete against OpTic Gaming and a chance at $2,500.
100 Thieves made it to the winners bracket finals by cruising through the winners bracket until they met OpTic. Prior to running into OpTic, 100 Thieves had won every match with ease – besting the qualifier team, G2 esports, and Envy. After being those 3 teams they faced OpTic where they lost 4-1.
Team Reciprocity on the other hand took one of the hardest routes to make it top 4. Reciprocity lost in the first round to G2 esports and had to play 4 losers bracket matches to get to where they are now. In loser's bracket they defeated an open bracket team, Luminosity, FaZe Clan, and Envy.
Red Reserves path is pretty similar to 100 Thieves. They won all their matches leading up to their match with OpTic Gaming. When they faced OpTic in the semi-finals they lost 2-4 sending them to loser's round 4. In loser's bracket they defeated the newly formed Pittsburgh Knights 3-2 and are now set to face Team Reciprocity.
CMG ProDown Finals Bracket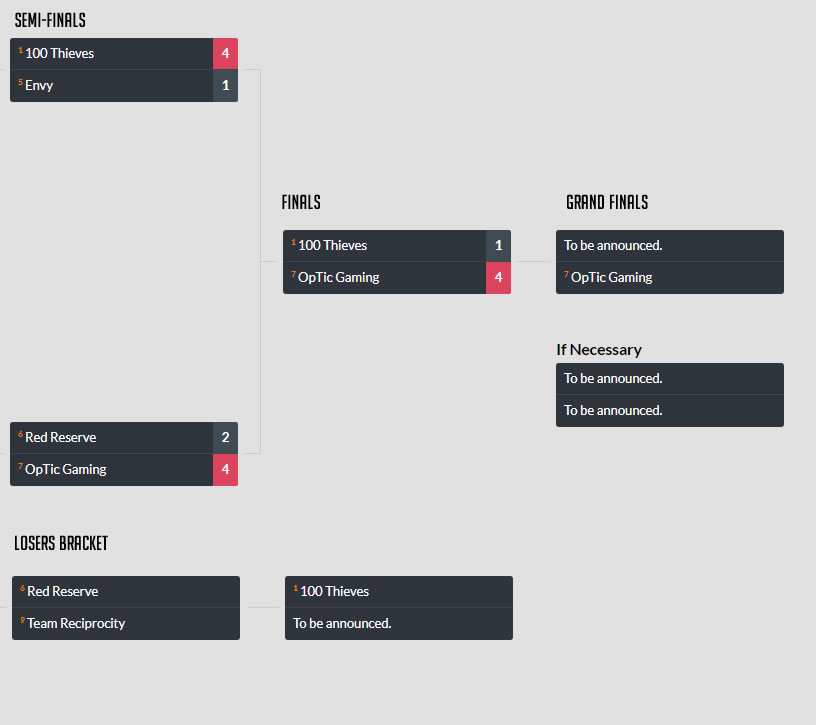 CMG ProDown Streams
Streams will be updated once players go live.