The Division 2 has held a State of the Game stream to cover past updates, future updates and upcoming content in The Division 2. The June 19th State of the Game (SotG) was live streamed on Twitch and covered tons of Division 2 content. Notably, the SotG covered Title Update 4, specialization changes, occupied dark zone changes, armor kits and changes that didn't make it into the recent Title Update 4 patch notes.
Division 2 developers also announced scheduled maintenance that will take place on June 20, 2019. The maintenance will take an approximate 2 hours and begin at the following times:
02:00 PM CEST
08:00 AM EDT
05:00 AM PDT
The maintenance will fix the following bugs:
Special Field Research

"Foam Party" and "This is Madness" will be updated

Agents will be able to pick up special ammo
Texture issue fixed for some gun icons
Armor Kit issue (Medkit issue) should be fixed
Wildlife will no longer drop special ammo
Arm patch rewarded for 1st week raid completion
Title Update 4
New Specialization – Gunner
The gunner specialization will be unlocked for season 1 pass owners. However, agents can still do special field research to unlock special cosmetic items.
The Gunner is equipped with the powerful Minigun, which will be a force to be reckoned with on the streets of Washington, D.C. With an emphasis on sustained damage output and damage resilience, the Gunner will serve as the vanguard of SHD Agents in the ongoing fight to reclaim the city.
When activated, The Gunner receive bonus armor based on the amount of Specialization ammunition they are carrying and can easily tank incoming damage for short periods of time while using their Minigun to suppress their enemies. There's a catch though – when the weapon is drawn, the Gunner can't enter cover, vault or roll.
To get enemies out in the open, the Gunner comes with the Banshee Signature Skill, which ignores cover and causes its targets to become confused. When an enemy stumble out of cover is the perfect opportunity for the Gunner to use their special grenade – the Riot Foam grenade – trapping the enemy in place.
The specialization comes with a new skill tree and the P320 XCompact sidearm.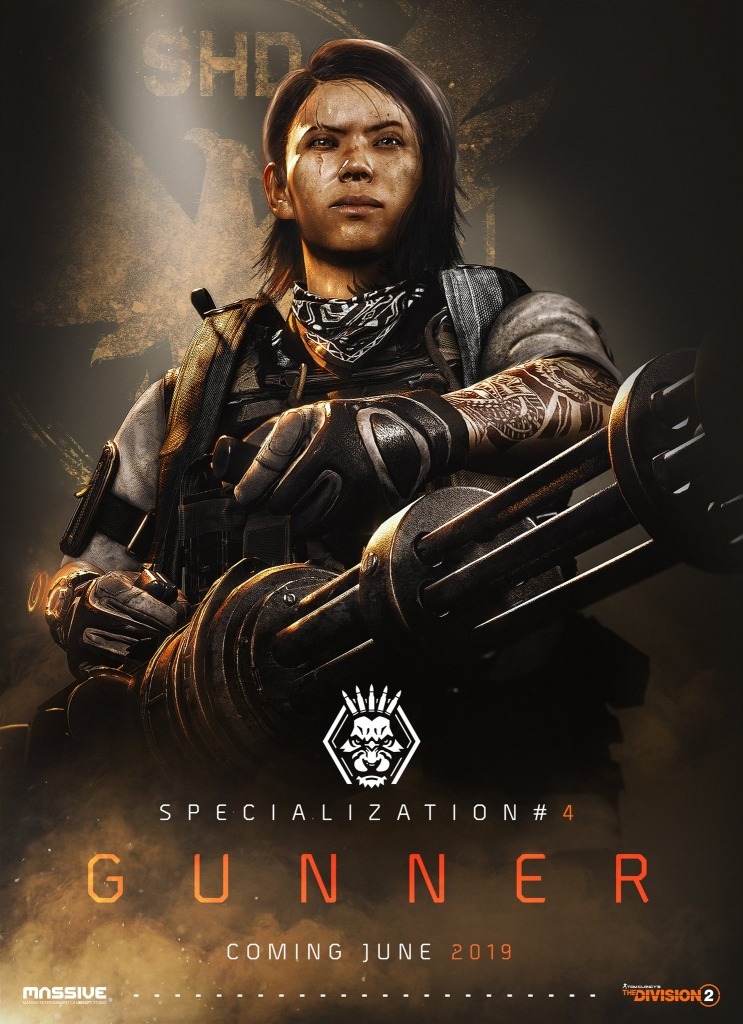 Specialization Changes
Changes are going live for all specializations. The changes will make the specializations more powerful and useful.
Side arms go up to 500 gear score
Specialization weapon will now scale to your world tier without having to invest into it.
Increased damage for all specialization weapons

Tach-50 damage doubled
Crossbow is 50% more powerful at cracking armor pieces.
Additional Changes
Developers also touched on additional changes The Division 2 is making. They touched on the idea of making major changes to brand sets, new skills, and the minor changes they've made to improve the UI experience in The Division 2.