Season 3 of Ring of Elysium is set to begin on March 27, 2019. The all new season introduces a new adventurer pass as well as many other major changes to the game. The patch will be deployed at midnight PST on March 27 and will require approximately 2 hours of down time. Once the down time is up, feel free to launch right into season 3 and complete your adventurer pass rewards.
Ring of Elysium Season 3 Patch Summary
Adventurer Pass Season 3
New weapons

DMR: M82A1 & FAL G-Series

New skins in shop
Season 3 in-game pirate themed events
New settings

Toggle glow effects for opponents

Character creation optimized
New accessories & vehicles
Ring of Elysium Season 3 Complete Patch Notes (March 27 Update)
Adventurer Season 3
The Adventurer Pass is a 10-week seasonal system, a way for players to earn exclusive in-game rewards by playing the game and ranking up their seasonal Adventurer Tiers. As players' Adventure Tier increases, various epic rewards will be unlocked including:

E-points: Unlike the Adventurer Pass for the previous two seasons, the S3 Adventurer Pass rewards will include a total of 1500 E-points! Use 950 E-points to unlock the Adventurer Pass and earn 1500 E-points back when you hit tier 97!

Adventurer Characters (does not affect game balance)

There will be three Adventurer Characters in this season. All characters have a variety of unlockable styles, and will gradually unlock as the player's Tier increases in the Adventurer Pass
Saki (Base Character Preview)

Saki RoE

Elliot (Base Character Preview)

Elliot RoE

Captain Fokke (Base Character Preview)

Fokke RoE

Player portraits
Glider(Europa) appearances
BMX bike appearances
Grappling hook appearances
Lobby music
Loading screens
and more!

The Adventurer Pass is separated into two parts:

The first part being the Free Pass, all players can obtain rewards by increasing their Adventurer Tiers without any sort of payment
The second part is the Adventurer Pass, which is available for 950 E-Points, a premium in-game currency obtained with real-world money via Steam payment (1000 E-Points is equivalent to $9.99 USD)

Players will immediately get a handful of rewards upon purchasing the Adventurer Pass, including two base Adventurer Characters: Saki and Elliot! Players will also get access to exclusive Adventurer weekly challenges
In addition, players don't have to grab the Adventurer Pass right away for the fear of missing out; players can buy the Adventurer Pass at any time during the season and retroactively earn the premium rewards based on the season tier that they have already reached!
As you play, players can level up their seasonal character levels by accumulating experience points in-game; each character level will reward a certain amount of Adventurer Badge(s). Completing daily and weekly challenges will also reward Adventurer Badges accordingly, 10 Adventurer Badges will increase players' Adventurer Tier by one, unlocking a variety of rewards
As always, none of the rewards in the Adventurer Pass affects game balance, and all unlocked rewards stay forever!
Weekly Challenge Missions will provide a large quantity of Adventurer Badges and character experience points to help players increase their character levels and Adventurer Tiers. The Season 3 will provide 10 set of Weekly challenge missions, the first eight weeks' challenge missions will provide a large quantity of Adventurer Badges. The last two weeks' challenge missions will provide a large amount of character experience points. As the season progresses, one set of weekly challenge missions will be unlocked every week, and the already unlocked weekly missions can be completed at any time throughout the season
Weapon Skins
Introducing the latest Weapon Skin Supply Box- Thunderbolt Supply Box! Open it and you'll have a chance to get the Epic quality skin: FAMAS-Thunderbolt, MP5-Thunderbolt, Rare quality skin: Desert Eagle-Galaxy, G28-Galaxy, M4A1-8 bit and more!
Players can visit the "Store – Weapon Skin" interface in the game lobby, select and open the Thunderbolt Supply Box to obtain one random weapon skin in the prize pool
After selecting the supply box, you can also click "Preview Rewards and Rules" in the upper left corner of the interface to preview the prize pool of the corresponding supply box and its detailed rules
The cost of opening a single Thunderbolt Supply Box is 100 E-points
Adventurers cannot receive duplicate rewards from Supply Boxes and will receive tokens for any reward they already own. (Uncommon- 1 Token, Rare- 5 Tokens, Epic- 20 Tokens)
Reward probability of the Thunderbolt Supply Boxes:

Epic quality (purple)- 1.5%
Rare quality (blue)- 20%
Uncommon quality (green)- 78.5%

Token shop

Once you have accumulated some Tokens, you can spend Tokens and redeem items of your choice by visiting the "Store- Token shop" interface. You will be able to find some very unique and high-quality skins in the Token shop, such as the "AK15-Tyrant" and "AUG-Victoria"!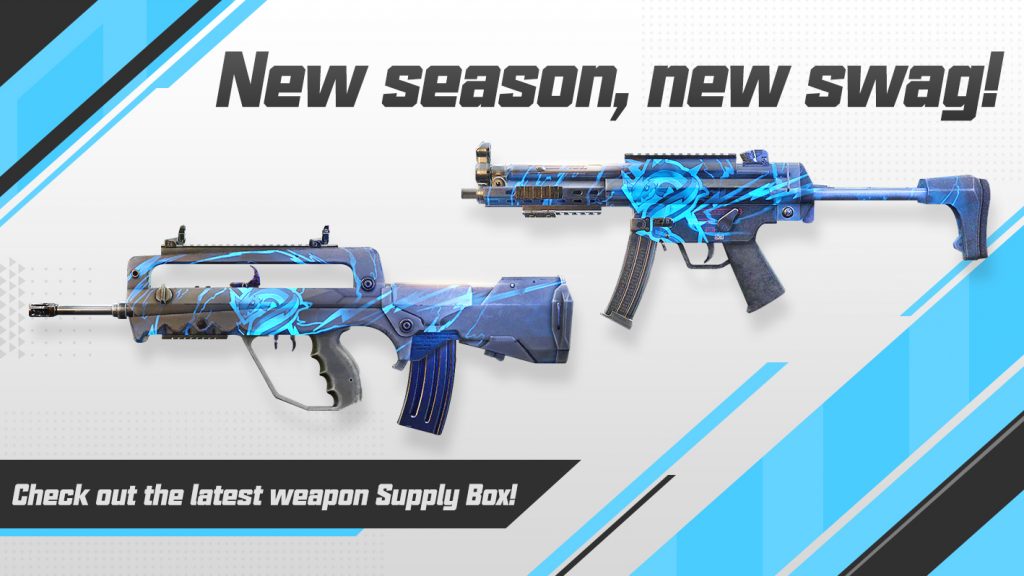 New Weapons / attachment
Added a new attachment: Extended barrel. Increasing the muzzle velocity and lowering the damage drop-off at long distances, attachable for DMR weapons (and the VKS!)
Added two new DMRs: the M82A1 and the FAL G-Series. We hope that by releasing new DMRs, players who like or are proficient with these weapons will have more and better choices for long-distance engagements, thus, making the battlefield more intense and diverse. Hop in a game and try them out!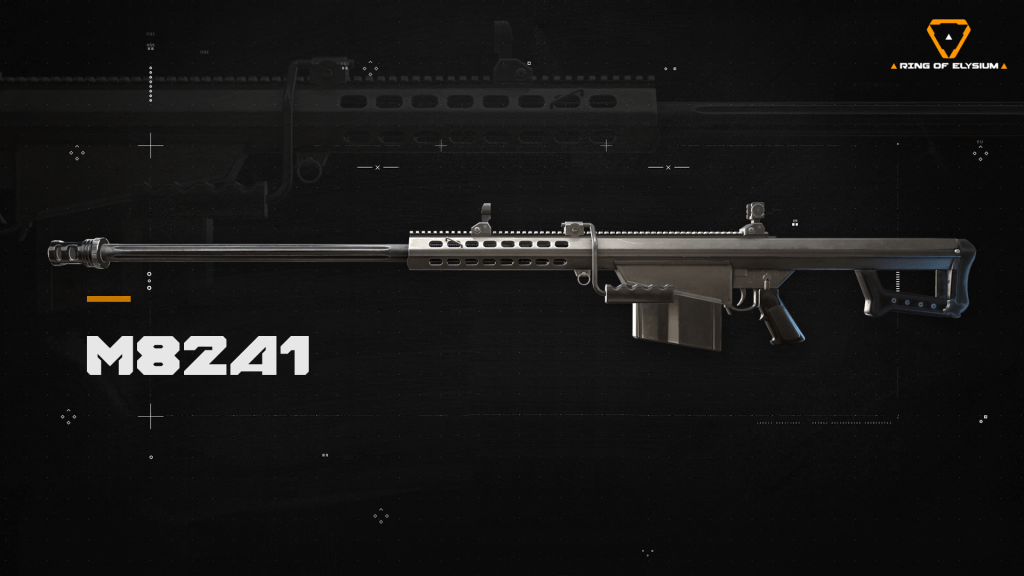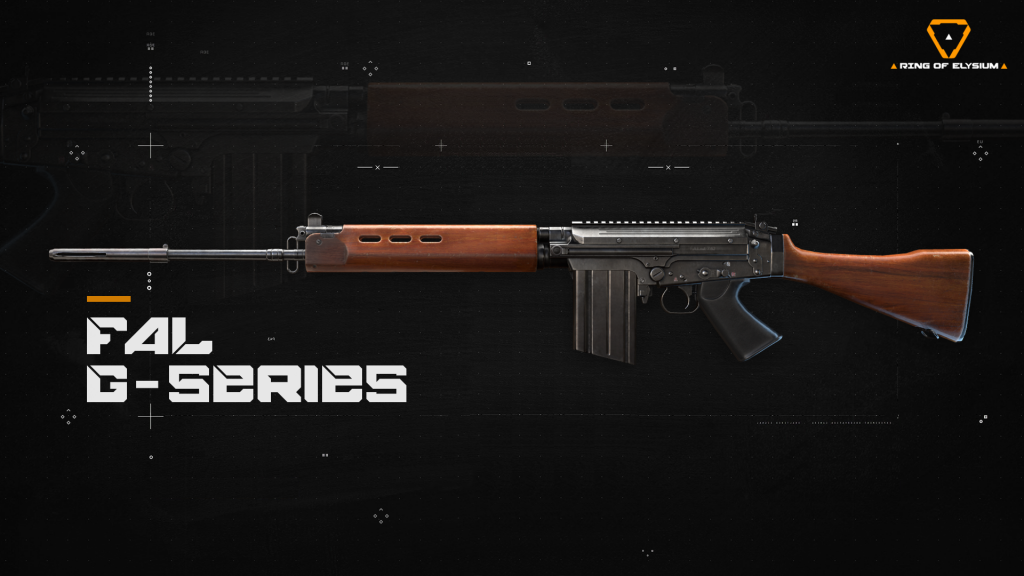 S3 Pirate Theme Events
Nostalgic return of the classic dropship mechanic

The Pirate Dropship is a limited-time special event to help kick off the pirate themes that we have in Season 3. This deploy method also calls back to the original spawn method for Ring of Elysium, where players jumped out of a plane to their desired location.

Please note that the Pirate Dropship event is currently planned to run for one week, after the event ends, we will change the spawn system back to the original one.

The cursed pirate ship looming in the distance

Besides the Dropship event, we have also added some other interesting content into Europa Island such as the mysterious pirate ship to spice things up a bit throughout the season.
During every game round, after the dynamic weather goes into "Typhoon" mode, a cursed pirate ship will appear on the map. When players approach and presses F to board the pirate ship, they will be transformed into a pirate captain; the appearance will remain until the end of that game round. While the ship is moving, loot boxes (pirate barrels) will also be continuously thrown off the ship, you don't want to miss that!


Pirate themed airdrops and elimination boxes

During the event, the appearance of the airdrop will become pirate casks. The appearance of the elimination box will also become treasure chests.
Gameplay
Increased the amount of HP from 10 to 30 when a player gets revived by teammates
Added a UI indicator for the evacuation helicopter's height drop
Added a UI showing the number of healing items carried when spectating a player
Optimized the visual effect of 4X, Red dot, and holographic sights, giving them a better visual performance under various environments and illumination
Optimized the camera path when character vaults
Settings
Added a new option- Display glow effects to opponents, allowing players to choose whether to display their character and weapon glow effects to opponents (this does not affect players themselves and their teammates)
Default character creation
Optimized the character creation process and updated the appearance for default characters. The new default character resembles the "adventurer" identity better, with a free set of adventurous looking cosmetic items, including masks, pants, gloves, etc.
After the update, both new and veteran players will automatically get the updated default character appearances
Default character face customization
Adjusted the entrance for face customization. Now, in the "Appearance" interface, click on the icon in the lower left corner to enter the default character's face customization interface
The price of confirming a face customization is 50 E-points. And there is no limit on the number of customization done
Leaderboard and statistics reset
With the launch of the new season, we will reset the leaderboards, player ratings, and all personal statistics. This will continue to happen at the start of every new season
Battle Buddy- Season 3 Update
To celebrate the launch of Season 3, and to allow players to earn more exclusive rewards with friends, we have fully updated the rewards of the Battle Buddy invitation system
After the end of Adventurer Season 2, we will reset all players' Battle Buddy list and Battle Buddy relationships. Players are welcomed to continue recruiting new Battle Buddies in the Season 3 to join your adventures in Ring of Elysium!
Event: Daily Check-in
The daily check-in system continues! During March 30 – April 5 (Pacific Time). Players can earn a new Ice cream accessory for FREE after checking-in for 7 days!
Store
New accessories have hit the Store including Elliot's favorite skateboard and headphones, as well as Saki's bowknot and love heart!
The Pirate Captain- Bernard Fokke is about to arrive on Europa Island! Bringing along his pirate-themed vehicle appearances: Tuk-Tuk – Pirate, and SUV – Piranha!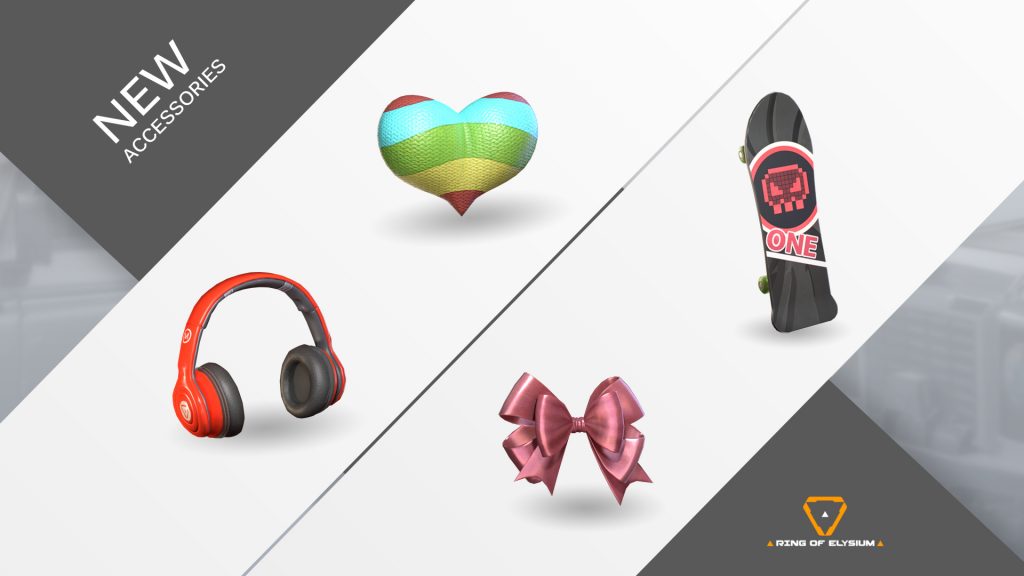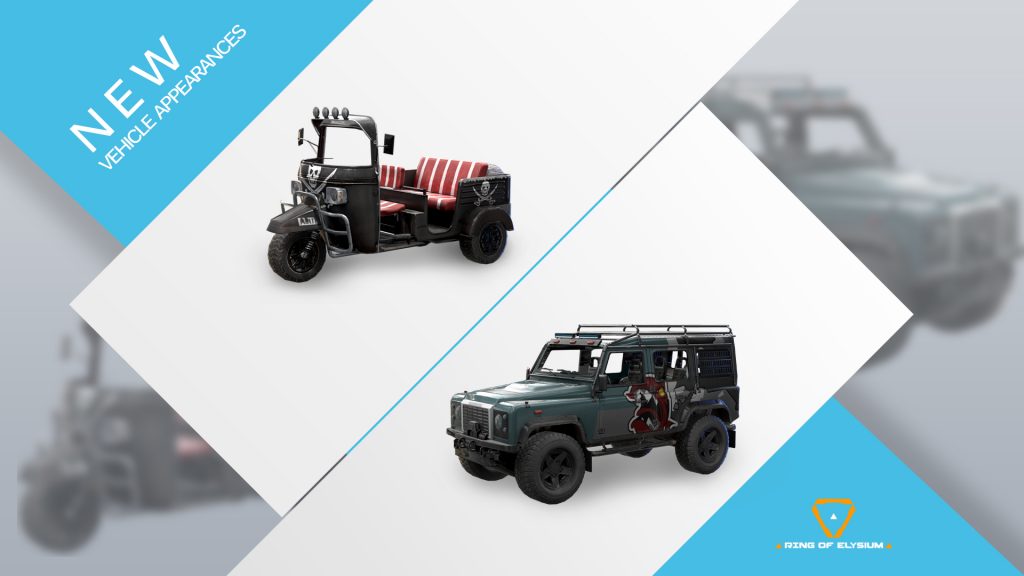 Bug fixes
Fixed an issue which prevented the 64-bit client from launching in some rare cases
Fixed an issue where players weren't able to change the resolution when launching the 64-bit client for the first time in Fullscreen mode
Fixed an issue where voice output volume was automatically set to default after each game
Fixed an issue where the mic boost volume was automatically reset after launching the game
Fixed an issue where characters wouldn't go into ADS after holding the right mouse button while airborne/landing
Fixed an issue where certain item icons displayed incorrectly in the inventory interface
Fixed an issue where the time-limited weapon skins weren't able to be previewed of had incorrect UI displays when the skin expired
Fixed an issue where Gavin was incorrectly displayed in the "Vault" interface in some rare cases
Fixed an issue where the loading screen would flicker for a split second when loading first started
Fixed an issue where weapon skins were sometimes displayed incorrectly in the skin preview interface in some cases
Fixed an issue where certain weapons and character models overlapped under FPP
Fixed an issue where certain weapon models would jitter while ADS in some cases
Fixed an issue where the spectating character model was displayed incorrectly when switching to a player located in a vehicle
Fixed an issue where the boat fell into the ground and eliminated players in some rare cases
Fixed an issue where certain buildings were displayed incorrectly
Fixed several object model's collision data errors
Fixed several object model's LOD errors
Source: Steam