OpTic Gaming to Host Madden Charity Stream For Jacksonville Shooting Victims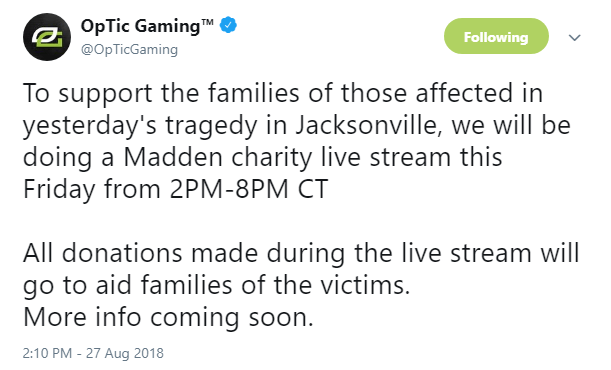 OpTic Gaming has announced they will be hosting a charity live stream for the victims of the Madden tournament shooting that took place in Jacksonville, Florida. The live stream will take place on Friday August 31, 2018. On Friday, they stream will take place between 2PM and 8PM CST. All donations raised from the live stream will go to aid families of the victims.
OpTic Gaming has done charity streams before. In 2016 they raised $281,430  during the COD4Vets charity event.
The original tweet announcing the charity stream:
To support the families of those affected in yesterday's tragedy in Jacksonville, we will be doing a Madden charity live stream this Friday from 2PM-8PM CT

All donations made during the live stream will go to aid families of the victims.
More info coming soon.

— OpTic Gaming™ (@OpTicGaming) August 27, 2018