Division B of the Call of Duty World League is under way. With the first week in the books it looks as if 100 Thieves owner Nadeshot is unhappy with how his team lost against eUnited. His team, who barely qualified for the league, made a skeptical roster change that received a lot of dislike, and currently sits in 5th place appeared to throw away the match near the end. The misuse of score streaks, the easy 1v1's they lost and more all contributed to an unhappy and "unacceptable" performance for Nadeshot.
After the match Nadeshot was streaming Apex Legends on Twitch when his chat started to ask him about the match. Nadeshot went on to say that
"Worst usage of score streaks in my entire life ever, ever. The match should have been over. Dude, we should have won 3-0. The amount of first bloods that we had in that series, to then lose rounds is un-fuc**ing believable dude."
Not only did Nadeshot show his anger on Twitch, he also tweeted out a now deleted Tweet about how the match was "Unacceptable. Absolutely unacceptable."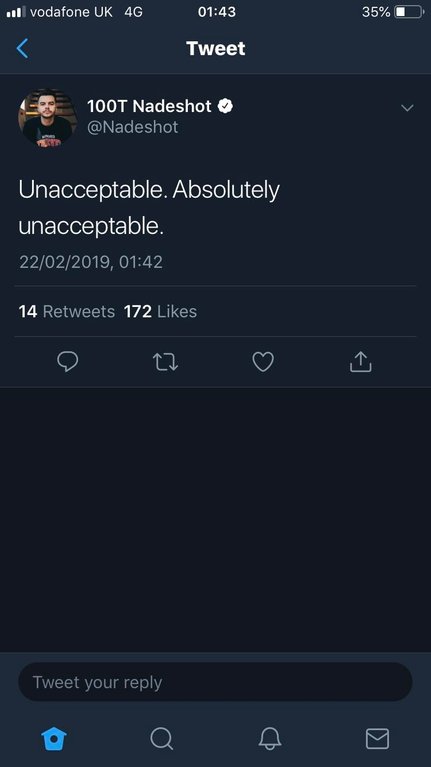 Shortly following the above deleted Tweet Nadeshot sent out this Tweet explaining his frustration.
Today was a bad day, simple as that. Lots of stress, things didn't go my way, blah blah blah. I'm blessed though. I've got great friends around me and if this is as bad as it gets, I'm doing alright for myself. Hope you have a great night wherever you're at in the world. ?

— 100T Nadeshot (@Nadeshot) February 22, 2019
With only one week left for Division B, Nadeshot knows how important the league standings can be going into MLG Fort Worth in mid March.