Looking for help completing your Fortnite season 9 week 8 challenges? The all inclusive week 8 cheat sheet provides tips to help players complete their challenges. Whether you are having trouble visiting the different clocks, locating all of the volcano vents, ziplines or air vents the week 8 cheat sheet map includes every detail you will need to complete your week 8 challenges.
Not only will the cheat sheet help you with your challenges, it will also help you locate this weeks Fortbyes. The season 9 week 8 cheat sheet shows the location for Fortbye #11, #12, #03, #95, #43 and #60.
Season 9 Week 8 Cheat Sheet Map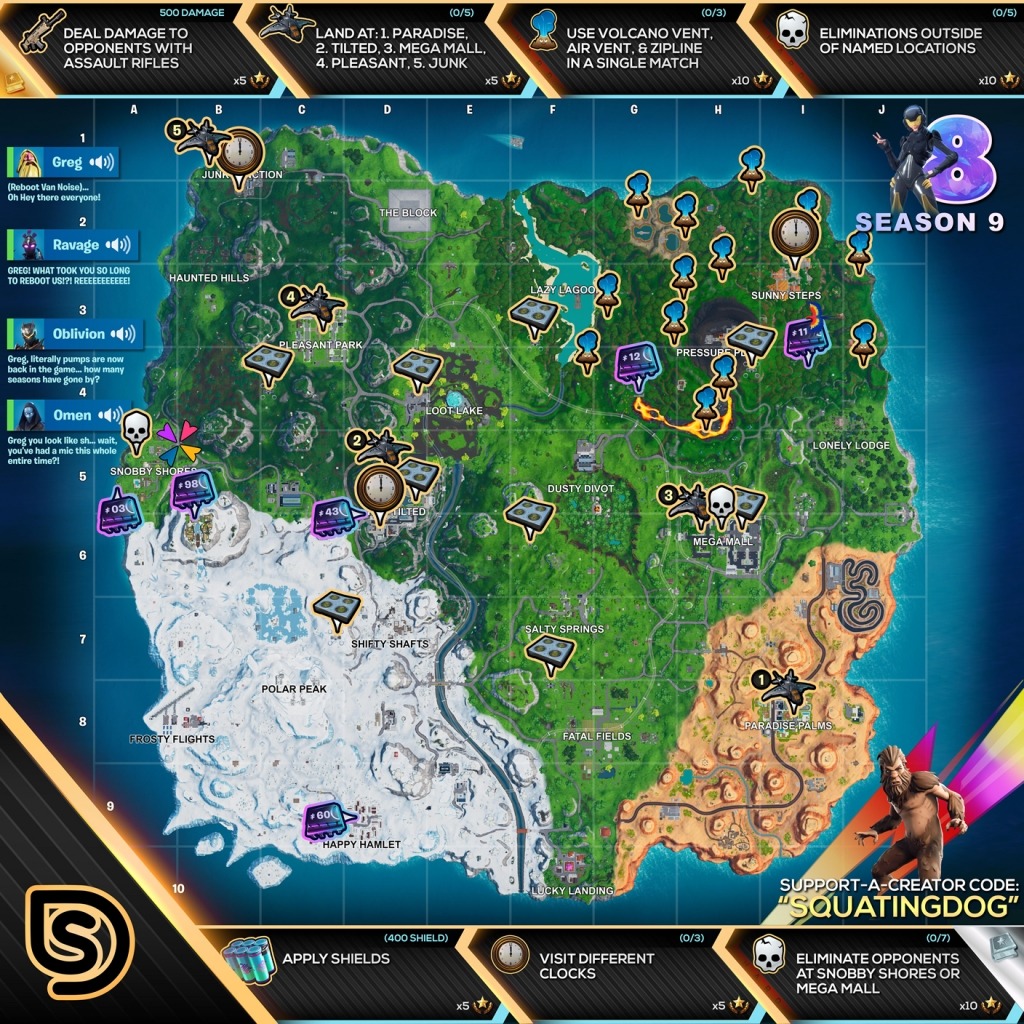 The challenges on the week 8 cheat sheet are pretty similar to challenges from previous weeks. One thing players need help with is locating the different clocks. Currently in Fortnite the clocks are located at Neo Titled, Sunny Steps and Junk Junction. Players have reported problems getting the clock at Junk Junction to count towards the challenge. The tip that seems to be working to get the Junk Junction clock to count is to "walk on top of the fallen clock on the ground, not "climb" on top of the broken tower."
Fortnite Season 9 Week 8 Challenges
Free Battle Pass Challenges
Apply shields (400 shields)
Visit different cocks (3 clocks)
Eliminate opponents at Snobby Shores or Mega Mall (7 eliminations)
Premium Battle Pass Challenges
Deal damage to opponents with assault rifles (500 damage)
Land at different named locations

Land Paradise
Land Neo Titled
Land Mega Mall
Land Pleasant Park
Land Junk Junctions

Use a volcano vent, air vent & zipline in a single match (Volcano vent, air vent & zipline map above)
Get eliminations outside of named locations (5 eliminations)
If you missed previous cheat sheets take a look at our directory of every Fortnite cheat sheet.