The Fortnite season 9 week 7 cheat sheet has been released. The week 7 cheat sheet will guide you through all of your week 7 challenges. This week, like previous weeks, contains 4 premium battle pass challenges and 3 free battle pass challenges. On the week 7 cheat sheet map you will see the premium challenges at the top, and the free challenges listed across the bottom.
Most of the season 9 week 7 challenges are pretty straight forward. However, this cheat sheet includes more than just tips to completing the challenges. Along with tips for completing the challenges the week 7 cheat sheet also shows you where the hidden battle star is, along with different locations for Fortbyte #30, #12, #58, #14, #59 #02, #49, and #48. By collecting the battle star you will unlock the week 7 loading screen.
Week 7 Cheat Sheet
This weeks cheat sheet was provided by Fortnite content creator squatingdog.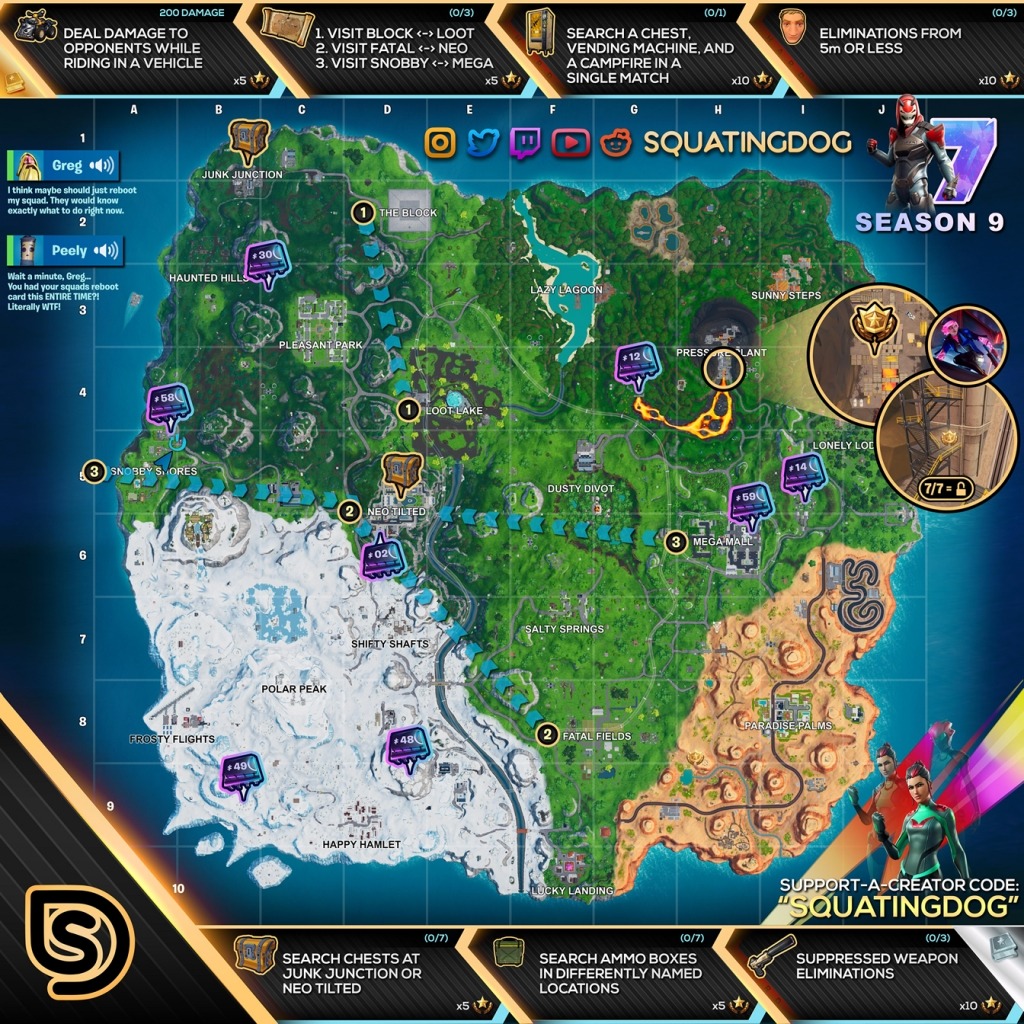 Week 7 Challenges
Free Battle Pass Challenges
Search chests at Junk Junction or Neo Tilted (7 chests)
Search ammo boxes in differently named locations (7 ammo boxes)
Get 3 suppressed weapon eliminations (3 eliminations)
Premium Battle Pass Challenges
Deal damage to opponents while riding in a vehicle (200 damage)
Visit groups of named locations in a single match

Visit the Block and Loot Lake
Visit Fatal Fields and Neo Tilted
Visit Snobby Shores and Mega Mall

Search a chest, vending machine and a campfire in a single match
Get 3 eliminations for 5m or less.
Keep in mind that you must finish the match for your challenges to progress or complete. If you leave the match prior to being eliminated or winning the game the challenge will not complete. The challenges are available to be completed through out the remainder of season 9. If you are struggling with previous season 9 challenges, check out our directory of every season 9 cheat sheet.