Fortnite Chapter 2 Season 1 Week 6 has begun. The all new week brings new "Hide & Seek" challenges for players to complete. By completing this weeks challenges players will unlock XP which goes towards level progression. Most of this weeks challenges can be completed simply by playing the game, yes, they are that easy. However, a couple of the week 6 challenges do take a little bit of though and guidance. If you are stuck on one of the challenges take a look at the cheat sheet below for advice.
Chapter 2 Season 1 Week 6 Hide & Seek Cheat Sheet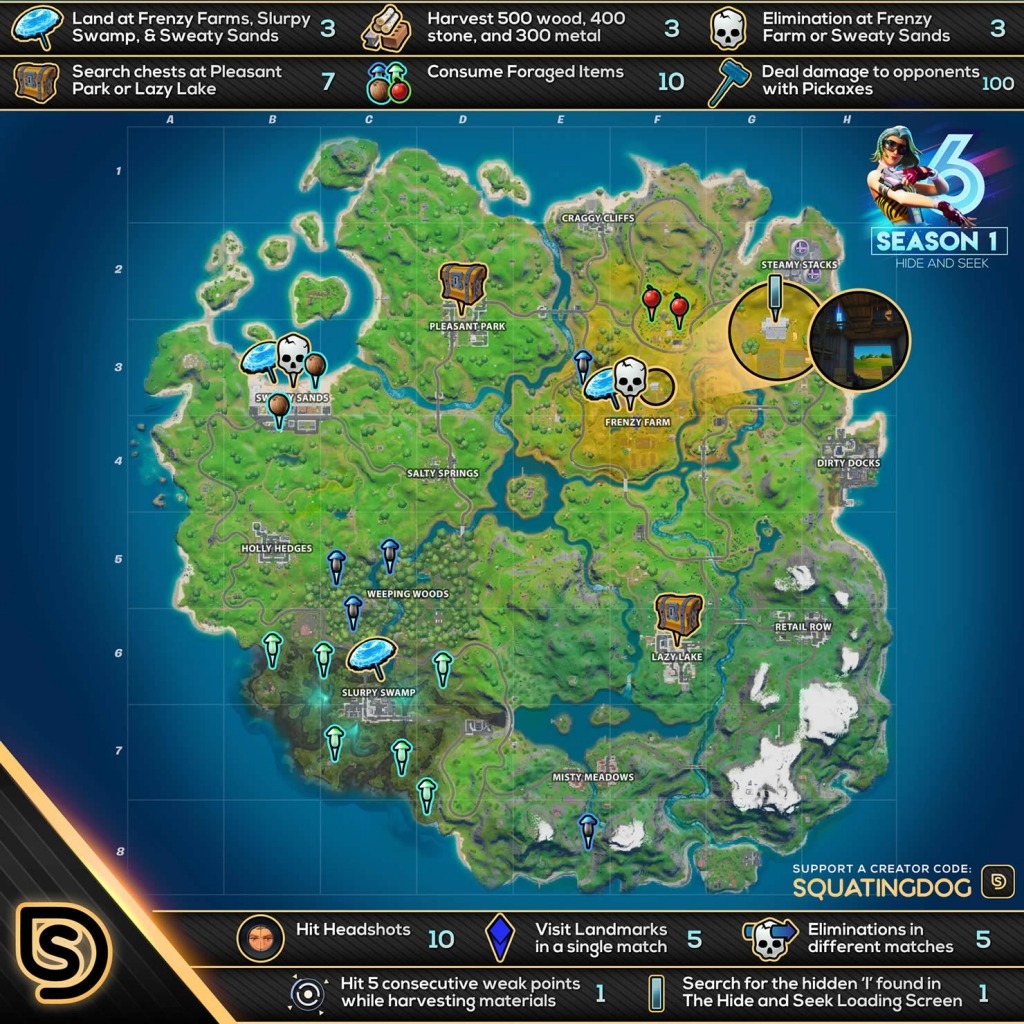 Most of the challenges in the week 6 hide & seek challenge list are pretty straight forward. Experienced players will have no problem completing the challenges without help, however, if you need guidance the cheat sheet should give you some good tips.
Week 6 Hide & Seek Challenges
Land at Frenzy Farms, Slurpy Swamp & Sweaty Sands
Harvest 500 wood, 400 stone and 300 metal

This only counts when you harvest it yourself, not picking it up off of eliminated enemies.

Get 3 eliminations at Frenzy Farm or Sweaty Sands
Search 7 chests at Pleasant Park or Lazy Lake
Consumer 10 Foraged Items
Deal 100 damage to opponents with pickaxes
Hit 10 headshots
Visit 5 landmarks in a single match

The 5 landmarks are displayed on the cheat sheet above with a blue marker.

Get 5 eliminations in different matches
Hit 5 consecutive weak points while harvesting materials

Make sure to hit the glowing circle while harvesting materials. This will allow you to get more materials faster, and complete the challenge.

Search for the hidden "I" found in The Hide and Seek loading screen
Of the challenges, finding the hidden "I" may the most difficult. However, as you can see on the cheat sheet above the "I" is hidden in Frenzy Farm just inside one of the barn doors. The next most difficult challenge may be the headshot challenge. If you are one of those players who normally tries to gun down your opponent as fast as possible and don't focus on getting headshots, it may be time to slow things down and aim directly for the head.