Developers from Epic Games, the creator of the popular battle royale Fortnite have confirmed a new "Duel" mode that is in the works. The 1 vs 1 player mode will allow players to practice for one on one PvP situations. Darkveil is on the Fortnite Creative team – and also very active on Reddit. The employee confirmed that the 1v1 mode would be making it's way into the live version of Fortnite with some form of matchmaking system.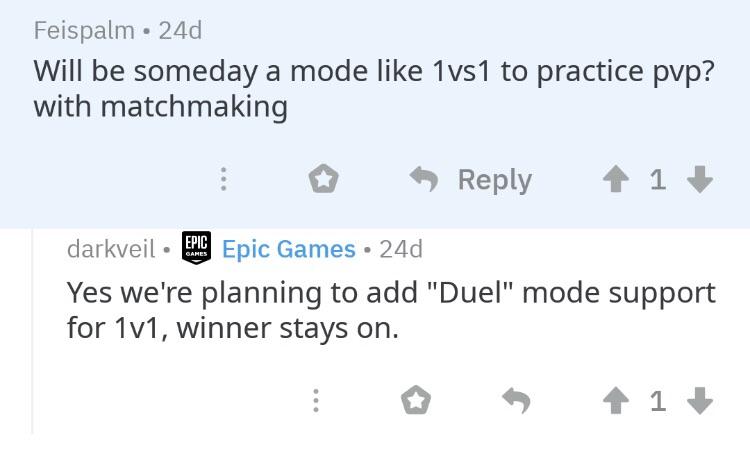 Darkveil also revealed that the winner of the 1v1 would "stay on". There are multiple ways that Fortnite players have interpreted the "stay on" part of the comment. Some believe that players who win the round will progress to play against other opponents who have won their duel match as well – while the loser would start back at the bottom or face an opponent who also recently lost a duel match.

After announcing that the 1v1 duel mode was in the works, Darkveil later confirmed that the mode is "still a ways out". However, he did mention that they are waiting for the next creative update which will include support for games to have multiple "rounds" and scoring / victory handling for that.
The duel mode would be great for pro players and content creators a like. When the playground mode was first announced streamers, YouTubers and other Fortnite creators took the time to build their own 1v1 map and battle against other content creators for bragging rights and sometimes even money. Other games like Call of Duty, Madden and NBA 2k all have a 1v1 custom option. This allows players to also setup wagers on various websites that allow them to battle against opponents for cash and website credits that can be redeemed for cash. Depending on how Fortnite implements the duel mode, you may see wagers start to see a comeback in Fortnite.