CWL Las Vegas is set to start at the Hard Rock Hotel in Las Vegas, Nevada on December 7, 2018. CWL Las Vegas is the first official COD World League tournament of the Black Ops 4 competitive circuit. The tournament is also the first CWL tournament to feature 5v5 rosters. The tournament will start with 20 teams making it to pool play to compete for their share of $250,000.
Entering pool play there will be 20 teams (12 teams from the 2018 CWL, 4 teams from play-in, and 4 teams from the open winner's bracket). Each team will play each other in a best of 5 series. The top 2 teams from each pool will then make it into the championship winner's bracket, while the other 3 will be placed in the championship loser's bracket.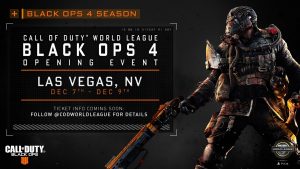 CWL Las Vegas Breakdown
Start Date: December 7, 2018
Stream: Twitch
Prize Pool: $250,000
Location: Hard Rock Hotel – Las Vegas, Nevada
Console: Playstation 4
CWL Las Vegas Official Streams
Play-in Stream
Alpha Stream
Bravo Stream
Charlie Stream
Delta Stream
CWL Las Vegas Pools & Records
Pool A
Team
Roster
Record
100 Thieves
Enable, Fero, Kenny, Octane, Slasher
2-2
eUnited
Abezy, Arcitys, Clayster, JKap, Prestinni
4-0
Reciprocity
Denz, Seany, Tommey, Wuskin, Zed
1-3
Mindfreak
BuZZO, SHockz, Fighta, Louqa, Excite
0-4
Team Sween
TBD
3-1
Pool B
Team
Roster
Record
Luminosity Gaming
Classic, FormaL, Gunless, John, Slacked
3-1
Red Reserve
Bance, Joee, Rated, Skrapz, Zer0
1-3
Evil Geniuses
FeLo, Goonjar, Royalty, Saints, Xotic
3-1
UYU
Spoof, Skyz, Proto, Mayhem, Nova
2-2
Heretics
TBD
1-3
Pool C
Team
Roster
Record
FaZe Clan
Attach, Methodz, Priestahh, Replays, ZooMaa
2-2
EnVy
Aches, Apathy, Assault, Huke, Silly
1-3
Lightning Pandas
MadCat, Alexx, Dqvee, Joshh, Peatie
3-1
Str8Rippin
SpaceLy, MajorManiak, Nagafen, Havok, Maux
3-1
Mazer Gaming
TBD
1-3
Pool D
Team
Roster
Record
Splyce
Jurd, Accuracy, Aqua, Loony, Temp
3-1
OpTic Gaming
Crimsix, Dashy, Karma, Scump, TJHaly
4-0
G2 Esports
Chino, Faccento, Decemate, Ricky, Blazt
0-4
Pittsburgh Knights
Parasite, Theory, Lacefield, Pandur, GodRx
2-2
Excelerate Gaming
TBD
1-3
CWL Las Vegas Championship Bracket
Winner Bracket
CWL Las Vegas Play-in Bracket
The top 4 teams will make it into the Championship bracket. The play-in bracket is double elimination.
Update: After intense play-in bracket matches the teams that will be going to pool play are Mindfreak, Str8 Rippin, UYU and the Pittsburgh Knights. Those teams will face off against the other teams in their pool. The top 2 teams from each pool will move into the championship winners bracket.
CWL Las Vegas Teams
Below is a list of teams that made it into pool play. We are only listing teams that have made it out of open bracket or qualified through the 2018 CWL Season. To view a complete list of the teams you can check out mlg.com
| | | | |
| --- | --- | --- | --- |
| Qualification | Team Logo | Team | Roster |
| Pro League | | 100 Thieves | Enable, Fero, Kenny, Octane, Slasher |
| Pro League | | Luminosity | Classic, FormaL, Gunless, John, Slacked |
| Pro League | | FaZe Clan | Attach, Methodz, Priestahh, Replays, ZooMaa |
| Pro League | | Team Envy | Aches, Apathy, Assault, Huke, Silly |
| Pro League | | Red Reserve | Bance, Joee, Rated, Skrapz, Zer0 |
| Pro League | | eUnited | Abezy, Arcitys, Clayster, JKap, Prestinni |
| Pro Points | | OpTic Gaming | Crimsix, Dashy, Karma, Scump, TJHaly |
| Pro League | | Team Reciprocity | Denz, Seany, Tommey, Wuskin, Zed |
| Pro Points | | Splyce | Jurd, Accuracy, Aqua, Loony, Temp |
| Pro Points | | G2 Esports | Chino, Faccento, Decemate, Ricky, Blazt |
| Pro Points | | Lightning Pandas | MadCat, Alexx, Dqvee, Joshh, Peatie |
| Pro Points | | Evil Geniuses | FeLo, Goonjar, Royalty, Saints, Xotic |
| Play-in Bracket | | Mindfreak | BuZZO, SHockz, Fighta, Louqa, Excite |
| Play-in Bracket | | Str8Rippin | SpaceLy, MajorManiak, Nagafen, Havok, Maux |
| Play-in Bracket | | Pittsburgh Knights | Parasite, Theory, Lacefield, Pandur, GodRx |
| Play-in Bracket | | UYU | Spoof, Skyz, Proto, Mayhem, Nova |
| Open Bracket | | | |
| Open Bracket | | | |
| Open Bracket | | | |
| Open Bracket | | | |
CWL Las Vegas Day 1 Schedule & Results – December 7, 2018
| | | | | | |
| --- | --- | --- | --- | --- | --- |
| Round | Team 1 | Team 2 | Scheduled Time | Results | Stream |
| Pool B |  Luminosity |  Red Reserve | 2:00 PM PST | 4:00 PM CST | 5:00 PM EST | 3-1 | Main – Twitch |
| Pool D |  Splyce | G2 Esports | 2:00 PM PST | 4:00 PM CST | 5:00 PM EST | 3-2 | Bravo – Twitch |
| Pool D |  OpTic Gaming |  Pittsburgh Knights | 2:00 PM PST | 4:00 PM CST | 5:00 PM EST | 3-0 | Charlie – Twitch |
| Pool B |  Evil Geniuses | UYU | 2:00 PM PST | 4:00 PM CST | 5:00 PM EST | 3-1 | Delta – Twitch |
| Pool C |  FaZe |  Envy | 3:30 PM PST | 5:30 PM CST | 6:30 PM EST | 3-2 | Main – Twitch |
| Pool A |  100 Thieves |  Team Reciprocity | 3:30 PM PST | 5:30 PM CST | 6:30 PM EST | 3-1 | Bravo – Twitch |
| Pool A |  eUnited |  Mindfreak | 3:30 PM PST | 5:30 PM CST | 6:30 PM EST | 3-1 | Charlie – Twitch |
| Pool C |  Lightning Pandas |  Str8 Rippin | 3:30 PM PST | 5:30 PM CST | 6:30 PM EST | 3-1 | Delta – Twitch |
| Pool D |  OpTic Gaming |  G2 Esports | 5:00 PM PST | 7:00 PM CST | 8:00 PM EST | 3-0 | Main – Twitch |
| Pool B |  Red Reserve |  Evil Geniuses | 5:00 PM PST | 7:00 PM CST | 8:00 PM EST | 2-3 | Bravo – Twitch |
| Pool B |  Luminosity | UYU | 5:00 PM PST | 7:00 PM CST | 8:00 PM EST | 3-0 | Charlie – Twitch |
| Pool D |  Splyce |  Pittsburgh Knights | 5:00 PM PST | 7:00 PM CST | 8:00 PM EST | 3-1 | Delta – Twitch |
| Pool A |  eUnited |  Team Reciprocity | 6:30 PM PST | 8:30 PM CST | 9:30 PM EST | 3-0 | Main – Twitch |
| Pool C |  Envy |  Lightning Pandas | 6:30 PM PST | 8:30 PM CST | 9:30 PM EST | 3-1 | Bravo – Twitch |
| Pool A |  100 Thieves |  Mindfreak | 6:30 PM PST | 8:30 PM CST | 9:30 PM EST | 3-1 | Charlie – Twitch |
| Pool C |  FaZe |  Str8 Rippin | 6:30 PM PST | 8:30 PM CST | 9:30 PM EST | 1-3 | Delta – Twitch |
| Pool D |  Splyce |  OpTic Gaming | 8:00 PM PST | 10:00 PM CST | 11:00 PM EST | 1-3 | Main – Twitch |
| Pool B |  Luminosity |  Evil Geniuses | 8:00 PM PST | 10:00 PM CST | 11:00 PM EST | 2-3 | Bravo – Twitch |
| Pool B |  Red Reserve | UYU | 8:00 PM PST | 10:00 PM CST | 11:00 PM EST | 2-3 | Charlie – Twitch |
| Pool D |  G2 Esports |  Pittsburgh Knights | 8:00 PM PST | 10:00 PM CST | 11:00 PM EST | 1-3 | Delta – Twitch |
| Pool A |  100 Thieves |  eUnited | 9:30 PM PST | 11:30 PM CST | 12:30 AM EST | 1-3 | Main – Twitch |
| Pool C |  FaZe |  Lightning Pandas | 9:30 PM PST | 11:30 PM CST | 12:30 AM EST | 1-3 | Bravo – Twitch |
| Pool C |  Envy |  Str8 Rippin | 9:30 PM PST | 11:30 PM CST | 12:30 AM EST | 2-3 | Charlie – Twitch |
| Pool A |  Team Reciprocity |  Mindfreak | 9:30 PM PST | 11:30 PM CST | 12:30 AM EST | 3-1 | Delta – Twitch |