Fortnite Chapter 2 is cruising right have already entered week 7 of season 1. Week 7 started on November 21, 2019 and will continue until November 28. Week 7 presents Fortnite players with the opportunity to complete all new challenges. By completing the season 1 week 7 challengers players will unlock XP.
This weeks challenges are pretty straight forward. However, there are a few that may be difficult for a casual player. One of the challenges requires you to get 2 eliminations while at 50 health or less. To some that may be easy, but for a player who enjoys keeping their health at 100, constantly taking bandages and sticking by camp fires that may change the way they play the game. The second challenge players may have trouble with is locating the hidden "T" found in the trick shot loading screen. The hidden "T" can be found in Weeping Woods on the bridge, as show on the cheat sheet below.
Chapter 2 Season 1 Week 7 Cheat Sheet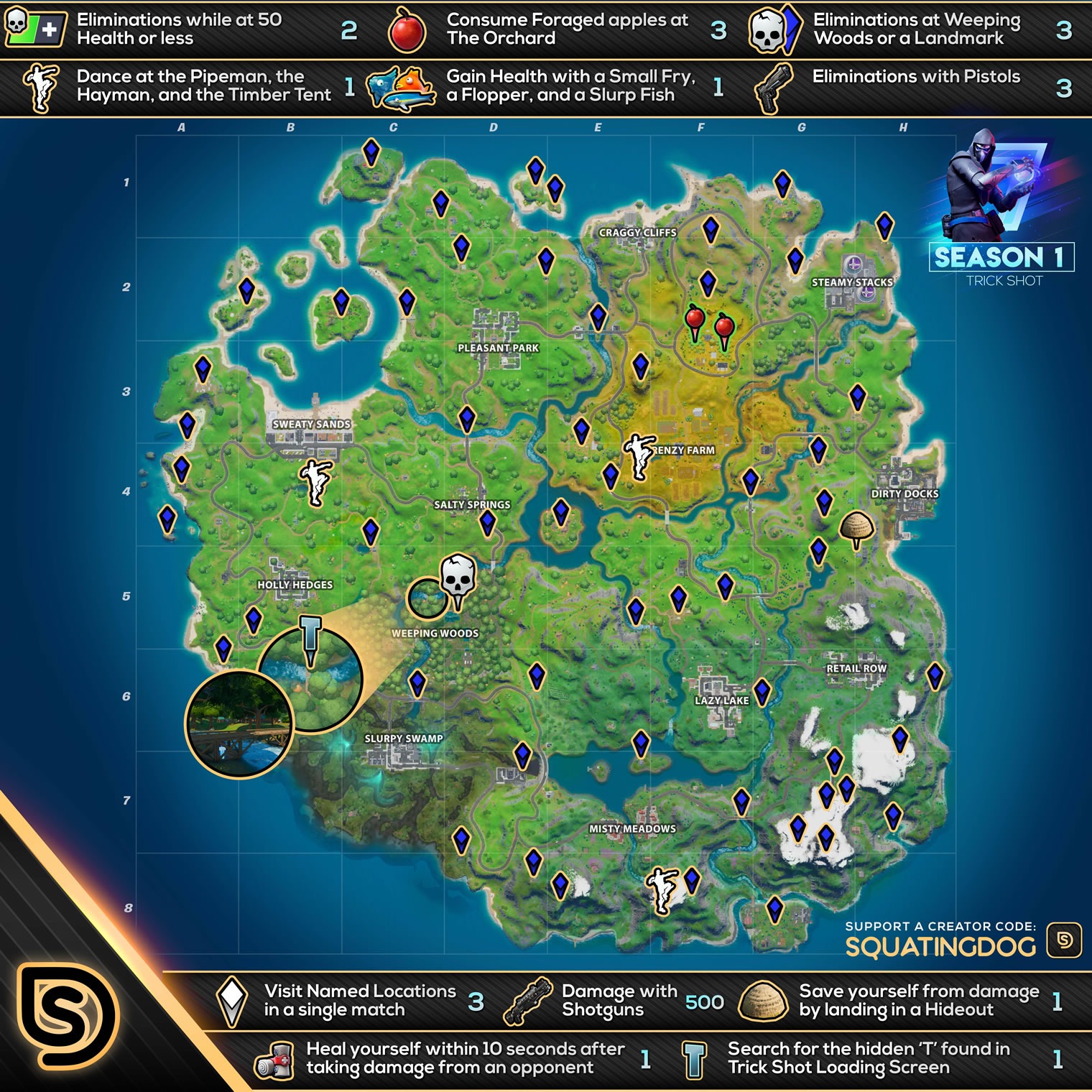 Challenges:
Eliminate 2 enemies while at 50 health or less.
Consume 3 foraged apples at The Orchard
Get 3 eliminations at Weeping Woods or a Landmark
Dance at the Pipeman, the Hayman, and the Timer Tent.
Gain health with a small fry, a flopper and slurp fish
Get 3 eliminations with a pistol
Visit 3 named locations in a single match
Do 500 damage with shotguns.
Save yourself from damage by landing on a hideout.
Heal yourself within 10 seconds after taking damage from an opponent.
Search for the hidden "T" found in the Trick Shot Loading Screen.
On the cheat sheet above players have mentioned the challenge "Save yourself from damage by landing in a hideout" is a bit confusing. If you are having trouble completing the challenge head to the location marked on the cheat sheet map above. Once you are there you are going to want to land on the power lines platform, look down and jump onto the hay-bail. By surviving you should complete the challenge.