Apex Legends Season 2 has officially been announced. The new season was announced during EA Play, and is set to release on July 2, 2019. Season 2 will introduce a new legend (Wattson), a new light machine gun, a new season 2 battle pass, and a bunch of new cosmetic content like skins, weapon camos and player cards. Season 2 will also introduce a new game mode called Rank which will be considered the competitive version of Apex Legends.
New Legend: Wattson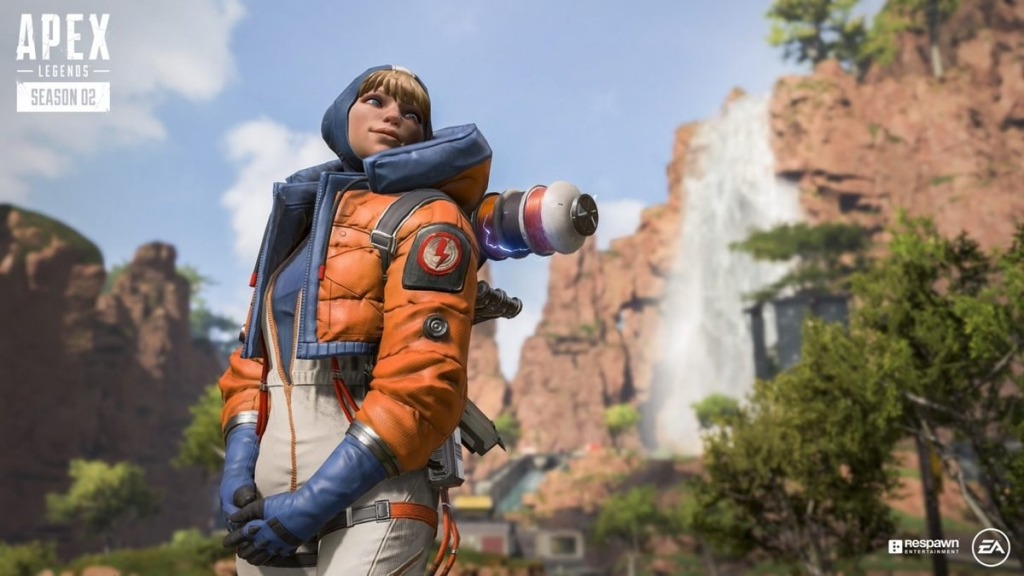 Wattson is the new legend coming in Apex Legends season 2. Wattson is an electrical engineer, daughter of the creator of "The Ring". She grew up in the arena helping her father build it. She's a genius with a heart of gold. Every knows her, and everyone loves her. Well… Perhaps not Caustic, but he does respect her intelligence. Wattson has some interesting abilities to offer which will definitely stir things up in the arena! Do you already feel the sparks?
Wattson's Abilities
Passive Ability: Spark of Genius
The Spark of Genius will allow Wattson to fully charge her ultimate ability by taking an ultimate accelerant. Standing near interception pylons will boost your tactical abilities recharge rate.
Active Ability: Perimeter Security
Wattson's active ability will allow her to connect nodes that will create an electrified fence that damages and slows enemies.
12 nodes can be placed at a time
4 nodes can be carried at a time, which refill over time
Electric fences will deactivate for a short period of time when teammates pass through them
If any enemy goes through the electrical fence it will warn you and your teammates
Ultimate Ability: Interception Pylon
Wattson will be able to place up to 3 interception pylons at a time. Each pylon will destroy incoming ordinance and repairs damage shields as long as it's not destroyed.
Blocks bombardments from Gibraltar and Bangalore
Stays active permanently until destroyed
Only 3 interception pylons may be deployed at a time
​New Weapon: L-Star

The L-Star is the newest weapon coming to Apex Legends. The LMG will take experimental ammo, fire fully automatic and only be obtainable through care packages. The light machine gun is described as:
This new gun packs a punch giving you an edge in the arena. It's an LMG using experimental bullets allowing you to blast open doors.
New Game Mode: Ranked
The ranked game mode will be the predecessor to the "Elite Queue" playlist. Ranked will allow players from all over the world to compete for the highest ranking in Apex Legend's version of competitive game play. Ranked will feature 6 tiers, from bronze through Apex Predator. Ranked play will feature skill based match making to make sure when you play you are playing against other legends in your skill group. The skill based match making may make it so that queue times are a little longer, but enemy skill levels should be more consistent. At the end of the season, players will be given rewards based on their finishing skill group.
New Season 2 Battle Pass
After falling short with the season 1 battle pass Apex Legends looks to turn things around with a more desirable season 2 battle pass. The season 2 battle pass will feature 4 legends items – 2 which are legend skins, and 2 that are weapon skins. Legendary items will be rewarded every 25 tiers so at tier 1, 25, 50, and tier 100. There is also expected to "new content types" that are obtainable through the battle pass. Unlike the season 1 battle pass, the season 2 battle pass will not reward players with badges and stat tracker, but will feature the "new content types". What exactly the "new content types" are has yet to be announced. Voice lines in the season 2 battle pass have been replaced with crafting materials. Each battle pass if fully completed will reward players with 1,200 crafting materials just enough to craft your favorite legendary item.