Red Dead Redemption 2 was released on October 26, 2018. Since release players have been grinding to complete the story line of this open world western shooter. However, if you're getting bored of playing cowboy and looking to advance faster we have some cheat codes for you.
Keep in mind that when you use a cheat code in Red Dead Redemption 2 all trophies and achievements will be removed from that save file. To avoid losing your trophies and achievements we recommend making a copy of your save file.
How to enter cheat codes in Red Dead Redemption 2:
To locate the cheat menu players need to pause the game, and head to the settings menu. Once in the settings menu you need to press 'Triangle' (if you're on Playstation 4) or 'Y' (if you're on Xbox One). After pressing the button the cheat menu should open.
In the cheat menu you will see a list of locked cheats. Most of the cheat codes will be unlocked by entering the codes below. However, to unlock some of the others you will need to locate newspapers from various locations around the map. The newspapers contain clues on how to unlock the remaining cheat codes.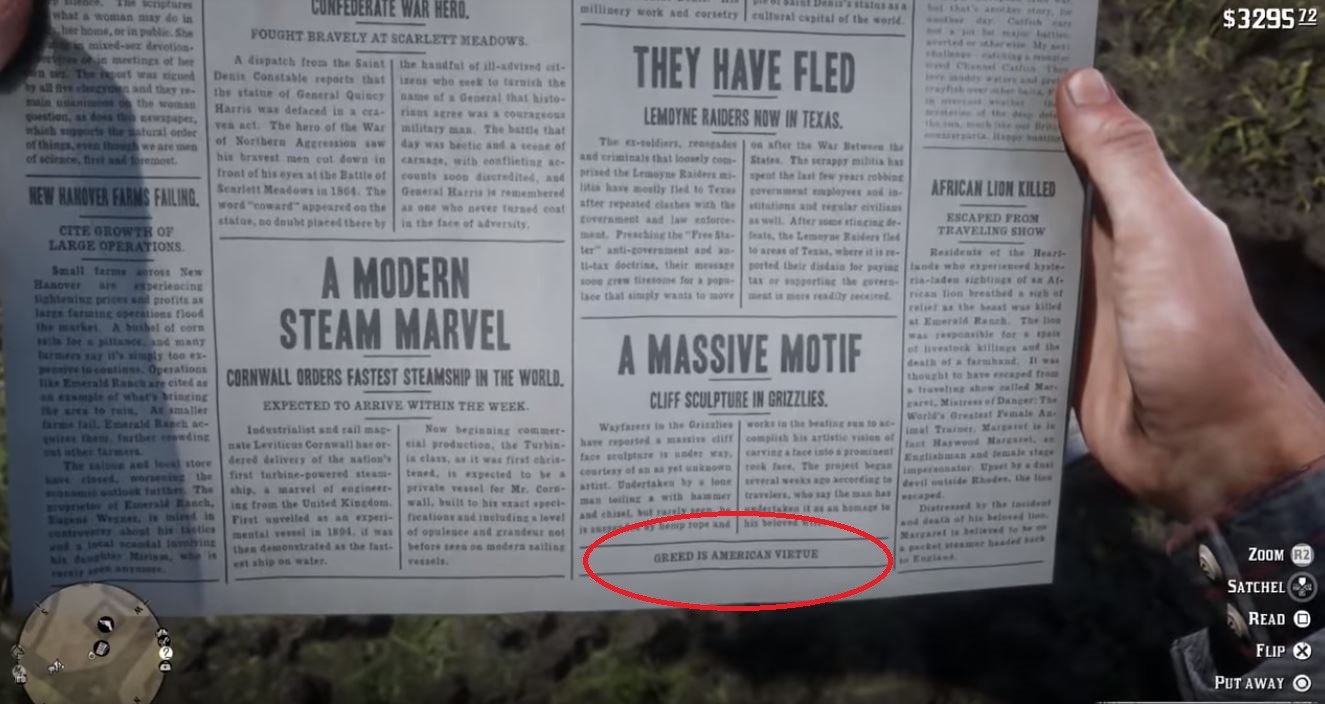 Red Dead Redemption 2 Cheat Codes:
| | | | |
| --- | --- | --- | --- |
| Code Name | Code | Code Description | Code Unlock |
| Increase Horse Whistle Range | Better than my dog | Your horse will be able to find you no matter how far away | Automatically unlocked |
| Dead Eye Level 3 | I shall be better | Upgrades Dead Eye skill to level 3 | Automatically unlocked |
| Dead Eye Level 5 | i seek and I find | Upgrades Dead Eye skill to level 5 | Automatically unlocked |
| Drunk | A fool on command | Become drunk | Automatically unlocked |
| Create Wagon | Keep your dreams simple | Spawns a wagon and a horse | Automatically unlocked |
| Create Race Horse | Run! Run! Run! | Spawns a race horse | Automatically unlocked |
| Set health, staminda and Dead Eye bars to full | You flourish before you die | Restore full health, stamina and Dead Eye energy | Automatically unlocked |
| Heavy Weapons | Greed is American Virtue | Gain access to the heavy weapons like the pump action shotgun, bolt-action rifle and mauser pistol. | Purchase the Saint Denis Times No. 46 or Blackwater Ledger No. 65 in Chapter 3 after completing 'Advertising, the New American Art' |
| Infinite Ammo | Abundance is the dullest desire | Unlimited ammo for all weapons | Buy the Gazette No. 27 in Valentine. Must visit the Horseshoe Overlook in Chapter 2. |
| Increase Stamina | The lucky be strong evermore | Gives you and your horse infinite stamina | Purchase the Blackwater Ledger No. 68 after completing 'Dear Uncle Tacitus' in Chapter 5 |
| Increase honor | Virtue unearned is not virtue | Give you the maximum amount of honor available | Purchase Blackwater Ledger No. 67 after completing 'Banking, The Old American Art' in Chapter 4 |
| Fog of war | You long for sight and see nothing | Reveals the entire Red Dead Redemption 2 map without exploring | Purchase Blackwater Ledger No. 67 after completing 'Banking, The Old American Art' in Chapter 4 |
| Create war horse | You are a beast built for war | Spawn a war horse to use | Purchase Blackwater Ledger No. 67 after completing 'Banking, The Old American Art' in Chapter 4 |
| Fortify health, stamina and Dead Eye bars | You seek more than the world offers | Refill your health, stamina and Dead Eye bars | Purchase Blackwater Ledger No. 67 after completing 'Banking, The Old American Art' in Chapter 4 |